ATSU-KCOM alumni share COVID-19 frontline experiences
Posted: October 30, 2020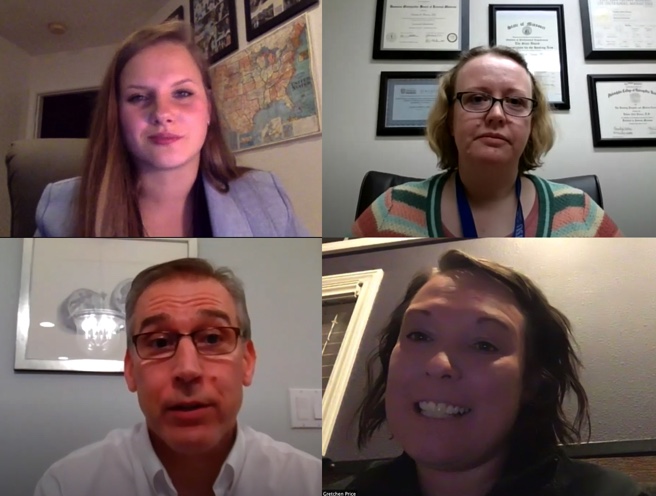 Pictured from top left (clockwise), Maria Kondrashova, OMS II, Valena Fiscus, DO, '13, MPH, assistant professor of internal medicine, Gretchen Price, DO, '07, and Howard S. Levine, DO, '87, regional assistant dean for medical education.
A.T. Still University-Kirksville College of Osteopathic Medicine's (ATSU-KCOM) Student Osteopathic Internal Medicine Association in collaboration with the College's administration hosted a virtual COVID-19 panel discussion this week. The panel discussion, moderated by Maria Kondrashova, OMS II, included three ATSU-KCOM alumni who have been on the frontlines of the COVID-19 pandemic. Through honest, candid conversation, Valena Fiscus, DO, '13, MPH, assistant professor of internal medicine, Howard S. Levine, DO, '87, regional assistant dean for medical education, and Gretchen Price, DO, '07, addressed some common misconceptions about the virus, provided practical ways to stay healthy during the pandemic, and backed it up with personal experiences from the frontlines.
When the virus began to spread in the U.S. in February and March 2020, little was known at the time. It hit fast, and there was little research to provide physicians with an understanding of how to treat the virus. It was thought that individuals 65 and older were at risk from this virus, and those under that age didn't have much to worry about.
"I think my youngest patient I had that died was early 40s and had no other health issues. He was quarantining at home, he looked pale, but his oxygen level was okay at the time and he had just that dry cough and felt a shortness of breath," Dr. Fiscus said. "But that next week, the second week of his infection, his family found him in bed unresponsive and he went into cardiac arrest on his way to the hospital and ultimately died."
It turns out the coronavirus does not discriminate. Not only are older and younger populations equally susceptible, so are the healthcare professionals who are working hard to provide necessary care to their patients.
"The other thing that was really challenging for us, in the beginning, was that we had a couple colleagues who got COVID-19 outside of work. One of our first patients was a very well-respected physician who became incredibly ill, he had a cardiac arrest," Dr. Price said. "Luckily we did get him back. He was one of our first tracheostomy patients, performed due to COVID-19, and he just returned to work, which was a huge triumph for us! But at the time, nobody knew if he was going to survive."
Unlike the common flu virus, you can be asymptomatic with COVID-19 and not realize you are spreading the virus.
"The first five days when you have this disease, that's the worst time, that's when you spread it," Dr. Levine said. "That's the scariest thing for me. I didn't want to give it to a patient, and I didn't want to give it to my family or friends. So, I kind of became a hermit."
While many treatment advances have been made over the course of the pandemic, relatively few details are known about the virus. One key detail still being researched is how long of an exposure time will result in someone becoming infected.
"We don't know the disease very well yet. We are still learning a lot about its transmission and how long it will take to get infected," Dr. Fiscus said. "That's the problem, we don't know."
Wearing a mask does seem to be one known way to effectively help slow the spread of the coronavirus.
"Droplets are the main mode of transmission of COVID. The theory behind mask wearing is that it helps reduce the droplets. It helps reduce how far those droplets travel," Dr. Fiscus said. "Some droplets will still escape the mask, it's not completely protective. But it will help reduce the distance they travel and the amount of droplets that come through."
While some individuals might find wearing a mask to be an unnecessary precaution, Dr. Fiscus tries to advocate for masks by giving some personal context and reminding people that you simply do not know if you are asymptomatic.
"I would hate to go home and see my grandma and give her a virus that ultimately leads to her death. For me, I would feel absolutely horrible. You can't predict who is going to react severely to this virus and who is not. You have to take this seriously."
Making personal health a priority is another critical component in the fight against coronavirus, especially for individuals who might have additional risk factors, such as diabetes or hypertension.
"It's really important right now. Taking care of yourself, watching your weight, and making sure you're exercising," Dr. Price said. "Diabetics are at extreme risk because most of them have the full metabolic package that sets them up for being really high risk for poor outcomes from this virus."
Dr. Levine discussed a few vitamins that could help impact the fight against COVID-19.
"I do think vitamin C, vitamin D, and zinc are important. Everybody should be taking Zinc. Vitamins D and C help your immunity."
After being on the frontlines since the beginning of the pandemic, these three DOs have seen a variety of patients from all walks of life. They have seen people survive and thrive after contracting the disease, but they have also had experiences where they've been the only one allowed in the room and held their patient's hand as they took their last breath. They speak from experience and come from a place of compassion, understanding that everyone has a part to play in ending this pandemic. Throughout the presentation the common theme that was stressed by all repeatedly was wear your mask and continue to socially distance.
Please consider viewing this entire presentation to learn much more about the coronavirus and what you can do to protect yourself and those around you.