ATSU-KCOM alumna installed as president of AAO
Posted: April 18, 2018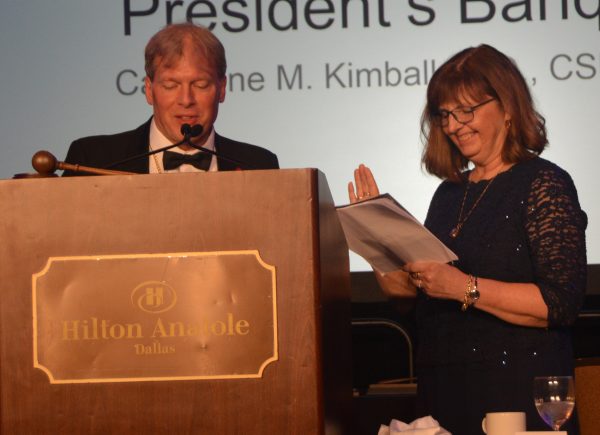 Catherine M. Kimball, DO, '85, taking oath as president of AAO
Catherine M. Kimball, DO, '85, of Waterville, Maine, was inaugurated as the 2018-19 president of the American Academy of Osteopathy (AAO) on March 24 during the academy's annual convocation in Dallas. Before becoming president, Dr. Kimball served for one year as president-elect of AAO, the nation's largest medical society devoted to fostering neuromusculoskeletal medicine and osteopathic manipulative medicine.
Dr. Kimball has been in private practice in Waterville, Maine, for more than 30 years. In addition to her family medicine practice, she provides osteopathic manipulative medicine consultation for a wide range of problems including headache, newborn feeding difficulties, ear infections and back pain. She is especially passionate about encouraging osteopathic and allopathic physicians to incorporate hands-on diagnosis and treatment in their practices.
A graduate of A.T. Still University's Kirksville College of Osteopathic Medicine (ATSU-KCOM), she completed a general internship and residency at Waterville Osteopathic Hospital (now Inland Hospital). She is board certified in osteopathic manipulative medicine and in family practice.
Dr. Kimball has been active in the osteopathic profession both locally and nationally. She is a member of the American Osteopathic Association, the Osteopathic Cranial Academy, and the Maine Osteopathic Association in addition to AAO. She has served on AAO's Board of Governors and Board of Trustees, and she previously served on the American Osteopathic Board of Neuromusculoskeletal Medicine.