ATSU introduces its virtual anatomy lab, a first in any Arizona medical school
Posted: December 17, 2013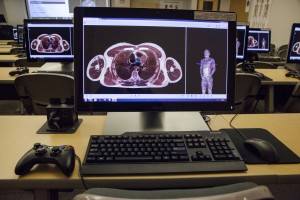 After a one-year build-out on the Arizona campus, A.T. Still University (ATSU) introduces an innovative anatomy lab that will be offered to students and the community alike.
The new lab, which was initiated by ATSU's School of Osteopathic Medicine in Arizona (ATSU-SOMA), is presented in a virtual setting offering the same anatomy practicum, but without actual cadaver dissection.
"The virtual anatomy lab is a monumental milestone in educational healthcare technology," said Jay Crutchfield, MD, assistant professor, ATSU-SOMA. "Participants can experience the human anatomy as if there was a physical cadaver in front of them."
The 56-seat virtual anatomy lab is the first-of-its-kind for any medical school in Arizona and unique among other medical schools in the United States. Using state-of-the-art computer systems, combined with software specially designed for teaching anatomy and exclusive software, the future of anatomy education will be offered to students starting fall 2014.
Images of real cadavers are shown in 2D and 3D. Additionally, community members will have the opportunity to use the new lab as a continuing education site.
"The virtual lab will serve the local community as a site for continuing education conferences," said Dr. Crutchfield. "This allows surgeons, radiologists, and family physicians the opportunity to gather and discuss current medical issues while allowing the potential for telemedicine links for patients in rural destinations."
Initiatives like the virtual anatomy lab underscore ATSU's mission in training the healthcare professionals of the future. Students will experience technology used every day in the practice of medicine, whether in a large urban environment or rural community setting.