ATSU hosts inaugural TLC Innovation in Teaching for Learning Awards
Posted: September 29, 2020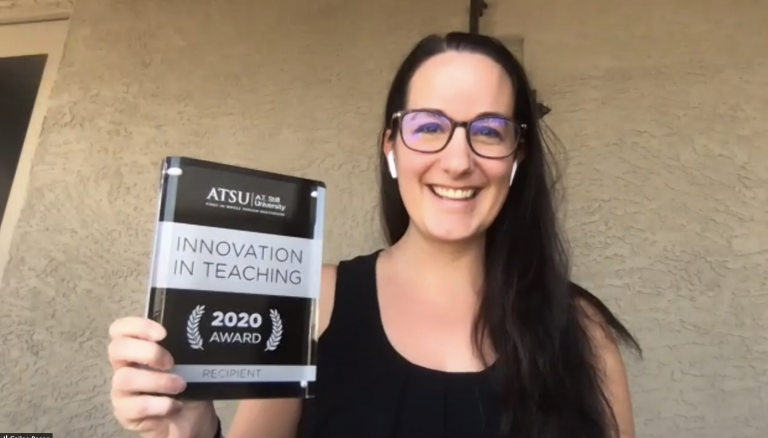 A.T. Still University's (ATSU) Teaching & Learning Center (TLC) recently hosted the inaugural TLC Innovation in Teaching for Learning Awards. The awards were presented in a virtual setting due to the coronavirus pandemic.
"This inaugural University-wide faculty recognition program award was created to recognize full-time faculty members who are incorporating innovative and creative teaching strategies or ideas in their ATSU course," said Quincy Conley, PhD, TLC director.
Faculty members first had to be nominated by someone from the University and then had to submit an extensive description of their project with letters of recommendation. After that, a panel reviewed the applications and selected the finalists, which were then evaluated by the judges, who included the dean's from all six ATSU schools and Ann Boyle, DMD, MA, associate vice president of academic affairs. The top three finalists were selected and announced during the virtual award ceremony.
---
Innovation in Teaching Award winner
Cailee Welch Bacon, PhD, ATC, associate professor, ATSU's Arizona School of Health Sciences (ASHS)
Project: Personalized learning pathways: Using Qualtrics to promote learning beyond the classroom
"When Kirsty Gaither, MA, manager, TLC, and I initially developed the personalized learning pathway (PLP) framework, we really wanted to figure out a way to enhance the learning experience for students regardless of their learning environment (residential, hybrid, online)," Dr. Welch Bacon said. "It is an honor to be recognized for our hard work in developing the PLPs and we are thrilled that the students have truly valued the PLPs as a mechanism to help connect learning content with reflective practice."
---
Innovation in Teaching Award, first runner-up
Christina Cuka, DSc, DPT, assistant professor, ATSU-ASHS
Project: Help students become better learners: Using systematic assessments to promote learning and comprehension
"As educators, we try to do the best for our students in helping them learn. With advances in technology and technological platforms, it has made it easier to do this by integrating assessments into each contact point with the students," Dr. Cuka said. "It is an honor to be considered a finalist for this inaugural award. I would like to thank both Brittany Williams, MS, instructional design, TLC, and Curt Bay, PhD, professor, for helping make this project a success!"
---
Innovation in Teaching Award, second runner-up
David Shoup, DO, professor, ATSU's School of Osteopathic Medicine in Arizona (SOMA)
Project: Integrated curriculum for osteopathic medicine
"It is an honor to receive such an award. This was a collaborative project among the Osteopathic Principles & Practice (OPP), Medical Skills, Ultrasound, and Anatomy departments of SOMA," Dr. Shoup said. "The award really goes to members of each of these departments including Grace Stewart, MD, course director, medical skills, assistant professor, Victoria Troncoso, DO, department chair, OPP, Deborah Heath, DO, associate dean, curricular integration, professor, Anna Campbell, PhD, department chair, anatomy, John Olson, PhD, professor, anatomy, Christina Weaver, DO, assistant professor, point-of-care ultrasound, Inder Makin, MD, PhD, professor, bioinstrumentation, and the OPP fellows, Jayna Patel, OMS IV, Grace Kim, OMS IV, Elizabeth St. Laurent, OMS IV, and Rebecca Fryer, OMS IV."