ATSU hosts George Blue Spruce Hero Healer Luncheon series
Posted: November 23, 2020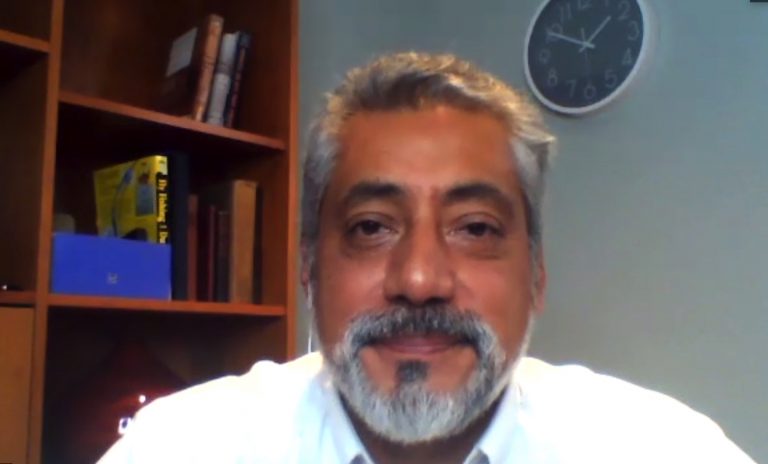 A.T. Still University (ATSU) recently hosted an installment of George Blue Spruce Hero Healer Luncheon series. Luis Padilla, MD, associate administrator for Health Resources and Services Administration (HRSA) was the featured guest for this online discussion. Dr. Padilla shared stories about making a difference as a healthcare professional, a community health center (CHC) leader, and a government servant.
Gary Cloud, PhD, MBA, vice president of university strategic partnerships, started the conversation by explaining the history behind this luncheon series and why it is named after George Blue Spruce, DDS, MPH, assistant dean, American Indian affairs.
"ATSU is the premiere educator of healers and leaders for the underserved. George Blue Spruce, of Pueblo American Indian heritage, overcame many obstacles and stereotypes to become the nation's first American Indian dentist," Dr. Cloud said. "He worked with American Indian communities through the American Indian Health Service, eventually rising to the position of assistant surgeon general. After retiring, he dedicated his life to mentoring American Indian children, he's the reason ATSU has educated half of the American Indian dental students in the country in the last 20 years."
Dr. Cloud then turned it over to Dr. Padilla who took viewers through his own story and described what he calls the clinician life cycle.
"Each of us in our own way, can make a difference. One of the things I want to highlight today in my talk is intentionality of that path, of that life cycle," Dr. Padilla said. "We can certainly go through these steps and graduate from your health profession school, maybe go on to residency. But unless you apply some intentionality, you might not be in the place that maybe your heart called you into service of initially."
As a child of Guatemalan immigrants, it was stressed early on to serve others and to share pieces of your accomplishments with others. Dr. Padilla described some of the social determinants of education that he personally experienced growing up, including economic instability, immigration, and English being his second language. But he took a moment to reflect on how those social determinants put him on a trajectory to get him where he is today.
"I think along my journey, I had a number of individuals who have helped me along the path and have helped me overcome some of these obstacles. But I don't want to signal to you that these obstacles that I have had have in some way not positively influenced my perspective, they have," Dr. Padilla said. "And it's not that I succeeded because or despite of, it's actually, I succeeded because of that background. Because of what my parents provided me. The support, the dedication, and ultimately the demonstration of perseverance."
Dr. Padilla was the first in his family to go to college and then on to medical school. He noted that he was one of two Latino's in his medical school class.
"We sometimes find ourselves looking around and not seeing similar faces, familiar faces or familiar backgrounds."
After witnessing this firsthand, Dr. Padilla now helps health profession schools identify areas to adjust admissions criteria.
"We have supported the inclusion of holistic admission criteria in medical and nursing schools to make sure that these health profession schools recognize that social determinants of health factors can impact the ability of students from these backgrounds to not matriculate from health profession schools."
Dr. Padilla calls his life cycle nontraditional as many of his medical school classmates were in their 20s, he was going through medical school in his 30s. After facing challenges along the way, he eventually found his path and buckled down to focus on his studies.
"It was important for me to understand how education and service to a community can be combined and the challenges that come with [education] and also the opportunities," Dr. Padilla said. "I do encourage you to think about training in these communities to get a really good perspective about how they deliver care, the challenges, and maybe provide you opportunities to modify your education at that point in time."
While Dr. Padilla's education journey was nontraditional, it was still intentional, and it followed a path. After he completed his residency, he ultimately found his way to service. After serving his community for 12 years, he moved on to HRSA.
"I saw an organization that was like minded, with a mission that was similar to my professional and personal mission. One that was really an extension to the work I was already doing in the community," Dr. Padilla said. "But it allowed me the opportunity to make an impact, however small, on a larger, national scale. It helped influence the direction of many of HRSA's workforce programs. It really focused on how we support health profession students from early years of their education, as early as we can, all the way through this lifecycle to service."