ATSU honors Mesa, Arizona, campus faculty, staff in annual awards event
Posted: May 25, 2021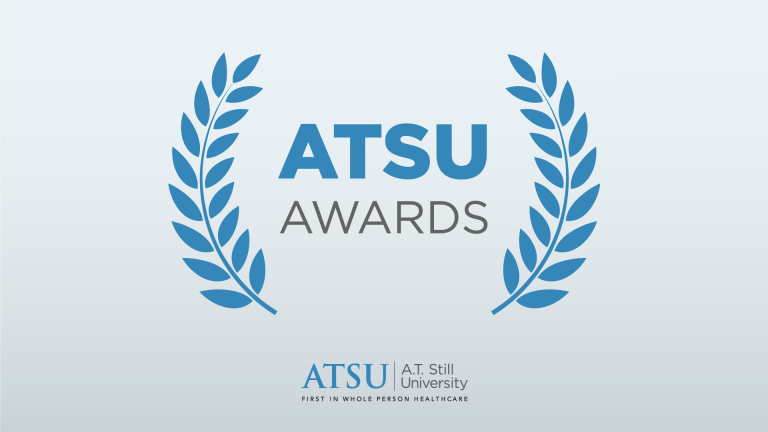 A.T. Still University (ATSU) employees from the Mesa, Arizona, campus were recently recognized for their years of service and accomplishments. The annual award ceremony was held online this year. During the ceremony, 48 employees who observed an anniversary were recognized for their years of service to ATSU in five-year increments, ranging from five years to 25 years. In addition to the service awards, one employee was selected for the Distinguished Service Award. All awards were presented by Tonya Fitch, MBA, SHRM-SCP, PHR, director of human resources.
"Congratulations to honored faculty and staff for their commitment to ATSU and health professions education," said ATSU President Craig Phelps, DO, '84. "It is always a pleasure attending the annual ceremony."
Distinguished Service Award
This award was created to recognize an employee each year who displays distinguished service to ATSU. Employees who have a minimum of 10 cumulative years of service to ATSU can be nominated, then past winners will vote to select the winner. The selected employee should exhibit the following qualities: dedication, service above self, a strong work ethic, and a positive outlook.
"The person selected for this year's award is very dedicated to her work, helping others, going above and beyond. She does a lot of volunteer work on behalf of our school and our partners. She is always extending a hand and including all of our students to make them feel part of the ATSU family," Fitch said. "She always remains positive through anything that she does. 'No' is not in her vocabulary. She is always willing to help or find a resource for what is needed, even if it has nothing to do with her responsibilities. She is always a strong worker, and we would like to congratulate Cindy Kaye as the Distinguished Service Award winner."
Employee Excellence Awards
25 years of service
Deanne Fay, PT, DPT, PhD
20 years of service
Eric Sauers, PhD, ATC
15 years of service
Crisolina DeLaRosa
Dan Dixon
Terri Hanger RDH MEd
Roy Holexa, DDS
Eugene Jasper, DDS
William Leibow, DDS, MSD
Beth Poppre, EdD, MEd
Klud Razoky, BDS
Marc Shlossman, DDS, MS
Albert Simon, DHSc, PA-C
10 years of service
June Altig
Azra Baab
Jessi Barriga
Amanda Barstow
Jennifer Beal, MEd
Melynda Blackburn
Melissa Conrad
Hector Duarte
Eric Harris, DDS
Lawrence LeBeau, DO
Sharon Obadia, DO
Marsha Preseley PhD MPH
Deborah Ross- Carter MBA
Ann Spolarich, PhD, RDH, FSCDH
Ariel Summers
Dedrixe Tsosie
Aesha Turner, MC, MCHES
Dustin Usher, MSCIC, CEH, ESCA, CCISO
5 years of service
Adrienne Brodie, MLS
Amanda Fernandez
Jose Garza
Karen Gerig
Crystal Hendron, EdD, MEd
Gregory Hollick, DO
Scott Howell, DMD, MPH
Prasanth Kharade
Benjamin Lewis
David Lopez
Brenae Maddix, MPH
Lauren McCaRVER, MD
Jeannie Nelson
Cindy Ogren
Kathy Rushlo, MHA
Colleen Trombly, RDH, MHSA
Robert Trombly, DDS, JD
Amanda Westendorf