ATSU holds 2017 Assessment Week
Posted: February 28, 2017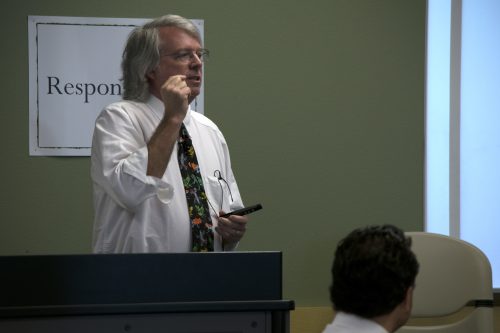 A.T. Still University (ATSU) held its third annual Assessment Week from Tue., Feb. 21-Thur., Feb. 23 on the Arizona campus, with presentations broadcast to both campuses. Assessment Week fine-tuned its focus for 2017 from the broad overview of prior years by offering a myriad of events that would speak to the distinct assessment needs of ATSU.
Assessment Week was opened by ​Ann Boyle, DMD, MA, associate vice president for academic affairs, highlighting the University-Wide Assessment Committee's role in "Strengthening the Culture of Assessment at ATSU." ​Bob McMullen, MS, PA-C, EdD, director of assessment, technology, and research for the physician assistant program, then led a productive workshop on "Authentic Assessment," which was followed by ​Linda Suskie, MA, in her ATSU debut, as she guided our faculty through "Assessing Professionalism & Other Soft Skills."
Wednesday extended these themes with two presentations from our guest speaker, ​​Suskie, as she presented her keynote on "Preparing Students for Successful Clinical Experiences & Careers" and an intensive workshop on "Creating Meaningful, Useful Rubrics." ​Dr. ​McMullen and ​Suskie laid the foundation for continued brainstorming and generated applicable concepts for assessing a variety of skills learned by ATSU students.
The third and final day of Assessment Week 2017 highlighted ATSU's own assessment expertise, as campuses and programs collaborated, with panelists offering their own insights into "Assessing Clinical Skills in the Pre-Clinical & Clinical Curriculums." Inter-rater reliability, interprofessional collaboration, and redefining rubrics were a few of the illuminating discussion topics.
The goal of Assessment Week is always to enlighten, inspire, and provide our own faculty & staff with clear tools for assessing the learning outcomes achieved by their diverse and unique students. ATSU's culture fosters impeccable education, and this can only be done with impeccable assessment.