ATSU Founder's Day celebration kicks off with virtual alumni recognition ceremony
Posted: October 2, 2020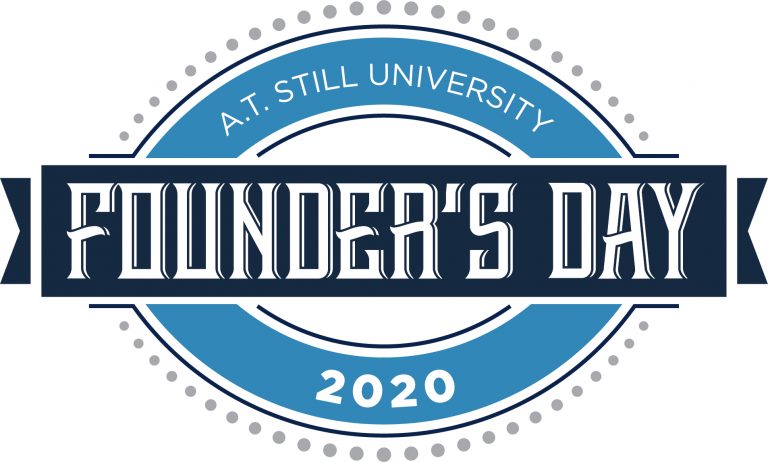 A.T. Still University (ATSU) kicked off the annual Founder's Day celebration with a virtual alumni recognition ceremony on Wednesday. The celebration was hosted by Bob Behnen, MBA, associate vice president, university advancement, and paid tribute to ATSU-Kirksville College of Osteopathic Medicine (ATSU-KCOM) alumni from the classes of 1995, 1990, 1980, and 1970.
"It is my honor to welcome you all to Founder's Day 2020 alumni recognition ceremony," Behnen said. "Although we are unable to physically gather in groups at this time, we come together virtually today to celebrate our 25-, 30-, 40-, and 50-year KCOM reunion alumni."
ATSU President Craig Phelps, DO, '84, Don Altman, DDS, DHSc, EdD, MPH, MBA, MA, professor, dean, ATSU's College of Graduate Health Studies, Dwight McLeod, DDS, MS, dean, ATSU's Missouri School of Dentistry & Oral Health, and Margaret Wilson, DO, '82, dean, ATSU-KCOM, took turns congratulating alumni and thanking them for being part of ATSU's history.
Joseph Novinger, DO, '89, president, Kirksville Osteopathic Alumni Association (KOAA), announced recipients of the 2020 KOAA Honors Excellence Awards.
"Each year, Kirksville Osteopathic Alumni Association recognizes alumni, employees, and friends who have made significant contributions to KCOM, ATSU, and osteopathic medicine," Dr. Novinger said. "On behalf of the KOAA board, it is my pleasure to share some of the highlights about the recipients being honored today."
2020 Honorary KOAA Membership
This award is given to individuals who have rendered meritorious service to osteopathic education.
Phyllis Domann, daughter of Albert Domann, DO, '33.
Domann created ATSU's Domann-Schubert Family Endowed Scholarship, paying tribute to her great-aunt, Anna Domann, DO, 1905; uncle, Gustav Domann, DO, '30; cousin, Walter Schubert, DO, '32; and father, Albert Domann, DO, '33. 
Mary Ann Hill, daughter of Benjamin S. Jolly, DO, '24.
With her mother, to preserve historic osteopathic profession-related items, she created the Benjamin S. Jolly, DO, Memorial Fund at ATSU.
2020 Distinguished Service Award
This award is granted to alumni and friends who have provided outstanding service or financial support to ATSU, KCOM, or KOAA.
Nancy Parrish, executive assistance, university advancement, was presented the award in recognition of her 48 years of service to ATSU in development and alumni relations.
William J. "Bill" Wobken, anatomy technician, recognized for 30 years of service to ATSU-KCOM.
2020 Living Tribute Award
"Each year, since 1969, the KOAA board has honored faculty members or administrators with the living tribute award for their outstanding accomplishments or their long-term services to the college," Dr. Novinger said.
Howard S. Levine, DO, '87
2020 Alumnus of the Year Award
"The KOAA board of directors established the Alumnus of the Year Award in 1982 to recognize and honor ATSU-KCOM graduates who made outstanding contributions to the college and osteopathic profession," Dr. Novinger said.
David E. Goldman, DO, JD, FCLM, '91