ATSU community projects: ATSU hosts back-to-school health fair for children in need
Posted: September 28, 2017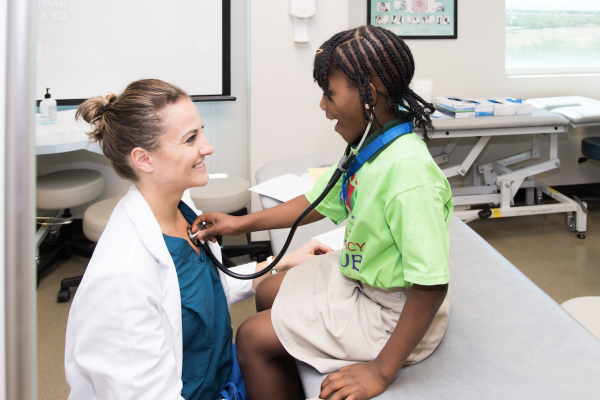 On Wednesday, Sept. 27 A.T. Still University (ATSU) hosted approximately 200 children from Phoenix-area Title I schools for a back-to-school health fair on its Mesa campus. Children received free health, hearing, vision, and dental screenings, provided by ATSU students and faculty. The event was hosted in partnership with local nonprofit organization, Corbin's Legacy.
Students in third through fifth grade were bused to ATSU from schools in Mesa, Phoenix, and Glendale. During the event, the kids rotated through stations, including various health screenings, as well as fun activities like bowling and hopscotch. They also received gift cards for food and school uniforms, and enjoyed a hot lunch at Straight A Café. Mesa Mayor John Giles (pictured below) made an appearance, as did ATSU's mascot, Bucky the Ram of Reason. 
Many children who participated in the event are uninsured or underinsured, and would not otherwise have access to critical health screenings. By addressing this basic need, ATSU and Corbin's Legacy are preparing children for success, in and out of the classroom.
"ATSU is thrilled to partner with Corbin's Legacy to provide important health screenings and school necessities for children in need," says Mary-Katherine Smith McNatt, DrPH, chair of ATSU's Master of Public Health program and coordinator of the event. "Not only does the partnership create meaningful learning opportunities for ATSU students, it prepares children for a healthy, happy, successful school year. We plan to continue the partnership and hold the event annually."
Resources for the health fair were provided by ATSU in celebration of its 125th anniversary. The University has planned a series of service projects to give back to the communities that support it. The back-to-school health fair was organized by ATSU's College of Graduate Health Studies.