ATSU community projects
Posted: July 11, 2018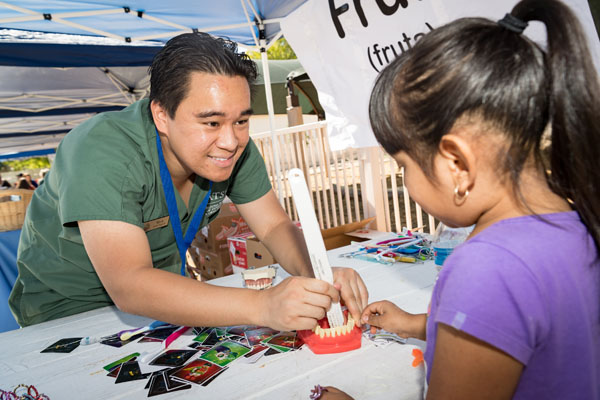 ATSU-ASDOH student Mark Vincent Donato demonstrates proper toothbrush technique.
In honor of ATSU's 125th anniversary, each of its six schools planned a service project to address the most pressing healthcare needs of surrounding communities. The projects have been implemented throughout the 2017-18 academic year. In the last issue, Still Magazine covered projects led by ATSU-KCOM, ATSU-CGHS, and ATSU-MOSDOH. Since then, ATSU-ASDOH, ATSU-ASHS, and ATSU-SOMA have carried out projects to give back to their communities.
ATSU-ASDOH Community dental event with CARE Partnership
In keeping with ATSU's mission, ATSU-ASDOH's project was designed to meet the needs of the community's underserved residents. The School joined forces with CARE Partnership, a local nonprofit organization, to provide free dental services to Mesa, Arizona, families who would not otherwise have access to care. More than 200 people received preventive dental services and education at the event, provided by 85 volunteers from ATSU-ASDOH. The event was hosted at CARE Partnership's Mesa location on Saturday, Nov. 11.
ATSU-ASDOH volunteers provided dental screenings, cleanings, sealants, and fluoride varnish applications. In total, treatment provided at the event was valued at $30,923. Pacific Dental Services provided restorative care, including X-rays, and the Mesa Fire and Medical Department offered free flu shots.
In addition to meeting a critical need in the community, dental students gained valuable experience working with a diverse patient population. ATSU-ASDOH strives to prepare its students for careers in service. According to the co-directors of ATSU's Dentistry in the Community, Heather Johnson, MEd, RDH, and Yvette Thornton, MPH, RDH, the event was a wonderful experience for students and patients alike.
"We are grateful for the opportunity to serve a population of families who otherwise would not have received much-needed dental services," says Johnson.
"The event truly embodied the mission of ATSU," Thornton adds.
ATSU-ASHS Ramping up quality of life
For someone with mobility issues, something as simple as leaving the house to run an errand can be very difficult. ATSU-ASHS' service project opened up a world of possibilities for one Mesa resident with chronic obstructive pulmonary disease (COPD). In partnership with Rebuilding Together Valley of the Sun, ATSU-ASHS students built an accessibility ramp at Christine Vanek's home on Saturday, Nov. 11. Vanek suffers from limited mobility due to COPD.
"This means the world to me," says Vanek. "I can get in and out of my house without worrying about falling."
Vanek has always been an active person but has been stuck inside for two years. The ramp allows her to enter and exit her home safely using a walker. It also allows her the opportunity to get out of the house and socialize. A former social worker, Vanek is impressed by ATSU's commitment to the community.
"I'm thrilled to see that young people are getting involved and trying to help others," she says. "It's so refreshing to see that happen."
Alexander Yaldoo, a third-year dental student at ATSU-ASDOH, enjoyed giving back to the community in a different way.
"The opportunity to build a ramp and improve the quality of life for an individual in need is priceless," he says. "This experience reminds me that I can help people in many ways, in and out of a healthcare setting."
ATSU-SOMA Nutrition and health awareness
ATSU-SOMA focused its efforts on health education, preparing children to make healthy choices throughout their lives. The School partnered with nearby Superstition Springs Elementary School, where 120 fourth-graders attended the Nutrition and Health Awareness (NHA) program led by ATSU-SOMA student volunteers.
NHA teaches children about exercise, nutrition, and healthy lifestyles at the elementary level. The community health program was designed to promote whole person wellness by reaching children when they are beginning to make their own healthy lifestyle choices. The interactive lessons included physically engaging games to reinforce concepts and model the body's functions. The health professions students who led the classes acted as mentors, influencing youth participants in a positive way.
"The NHA program is an opportunity for ATSU students to get involved in hands-on community work, spreading the University's mission of service," says Kate Whelihan, MPH, CPH, faculty adviser to the service project. "By empowering children to understand their own health, we hope to inspire wellness throughout our communities."