ATSU-CGHS presents awards to students, faculty, staff
Posted: June 27, 2021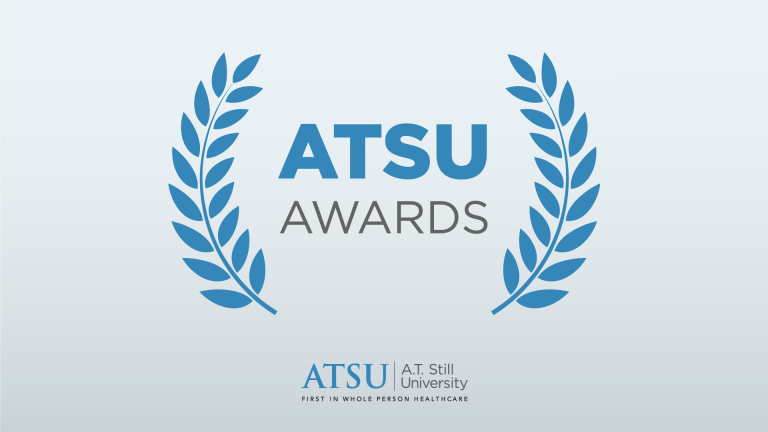 A.T. Still University's College of Graduate Health Studies (ATSU-CGHS) celebrated faculty, staff, and student achievements with a virtual awards ceremony on May 20.
Presentations included the ATSU-CGHS Outstanding Student Service Award, Professor of the Year, and Outstanding Employee Award, as well as Outstanding Adjunct Faculty awards for each program.
The Outstanding Student Service Award went to Sarah Fine, DO, MPH, '21. The award is presented to a graduating ATSU-CGHS student who has stepped forward as a community leader with a sense of determination and purposefulness, resulting in particular successes benefiting individuals, groups, or society in general.
Dr. Fine earned her master of public health degree from ATSU-CGHS while also earning her doctor of osteopathic medicine degree from ATSU's School of Osteopathic Medicine in Arizona (ATSU-SOMA).
After college, Dr. Fine volunteered for a year as a live-in direct care supporter in a residential community for young adults with intellectual and developmental disabilities (IDD). She also established ATSU-SOMA's Developmental Medicine Club, and helped launch the first and second ATSU Interdisciplinary Wellness Rally, in conjunction with Special Olympics Arizona, to provide physical screenings, audiology care, dental screenings, and educational seminars to athletes with IDD.
She secured grant funding from Women for ATSU for transportation children with IDD to the ATSU Osteopathic Manipulative Medicine clinic, serves as a level 5 crisis counselor with Crisis Text Line, initiated construction of a wellness park behind the Beaufort-Jasper-Hampton Comprehensive Health Services community health center in Ridgeland, South Carolina, and worked with Special Olympics Arizona to create a mobile COVID-19 vaccine clinic for those with IDD living in group homes and residential communities.
Professor of the Year went to Eric Matthews, PhD, associate professor in the doctor of health sciences program. Nominators said Dr. Matthews has shown extraordinary dedication to teaching, demonstrated by his impact on and involvement with students, scholarly approach to teaching and learning, and contributions to education at ATSU, in the community, and in the profession.
Student nominators said Dr. Matthews was not only a resource and mentor, but a pseudo-counselor when they felt overwhelmed.
The Outstanding Employee Award was presented to Heather Brown, EdD, MTS, assistant director of the University Writing Center. Dr. Brown was described by nominators as someone who manages a difficult and multifaceted job, responsible for reviewing hundreds of student papers and assignments each year. She edits and directs research project proposals and ensures students present the best possible work to their instructors and committees. She makes herself available nearly seven days a week at all hours of the day.
"She never makes you feel that you are annoying her or taking up her time," nominators said. "People don't often see what the Writing Center accomplishes, and it is difficult doing an online job and making your colleagues and clients feel respected and welcome, but she does this and beyond."
Outstanding Adjunct Faculty awards went to: Public Health, Marjorie Belizaire, MD; Health Administration, Linda Koonce, DHA, MBA; Kinesiology, David Larson, MS; Health Professions Education, Kate Schultz, MS; Doctor of Nursing Practice, Judy Vaughan, DNP, RN; and Doctor of Health Sciences, Patrick Palmieri, DHSc, EdS, MBA, MSN, ACNP, RN.