ATSU-CGHS Nursing Blog: 10 tips to nurture your body
Posted: January 27, 2021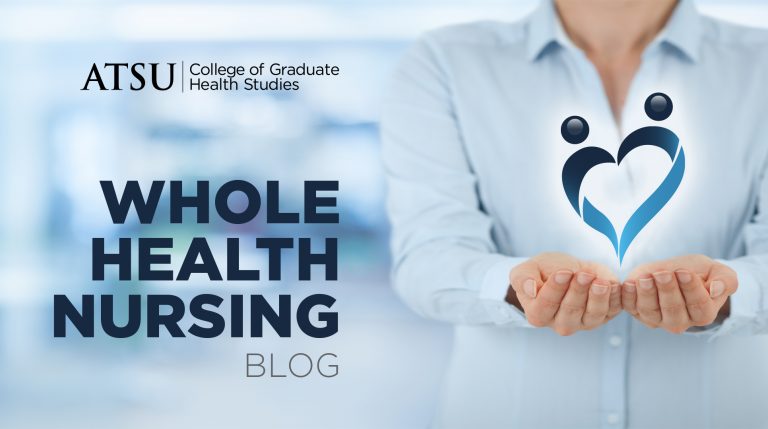 By Elizabeth Segura, DNP, APRN, FNP-C, adjunct faculty, A.T. Still University-College of Graduate Health Studies (ATSU-CGHS) graduate nursing program.
As we enter 2021, here are 10 tips to consider.
1) Balance your life with your work
Keeping a healthy balance is crucial. We sometimes hear "keep your work at work." This is easier said than done especially when you work from home. Here are a few tips:
Keep a schedule and stick to it. When your work hours are defined it makes it easier to set boundaries.
Give yourself breaks. Take a quick walk outside or grab a snack. When taking a break, step away from your workspace.
When you are done working for the day, close your computer.
2) Sleep better to feel better
Sleep is vital to both physical and emotional health and wellness. Adults should sleep at least seven hours daily. Sleeping less than seven hours on a regular basis may result in obesity, hypertension, heart disease, depression, and anxiety. Ways to improve your sleep include exercise; avoiding caffeine, alcohol, and smoking; as well as eliminating technology in bed. You may also want to:
Make the last hour before bed a "wind-down" time. Do something enjoyable and relaxing.
Minimize napping. Napping makes it harder to fall asleep and stay asleep.
Create a sleep-friendly bedroom. Your bed should be comfortable and your room dark, quiet, and cool.
Get into bed only when you are ready to go to sleep. Get out of bed in the morning when you wake up.
3) Exercise regularly
If you aren't used to regular exercise, no need to worry. Start slow and focus on moving more and sitting less. Park at the back of a parking lot so you have further to walk or choose stairs when possible. Making these little changes can help you reach your exercise goals and improve your overall physical and mental health.
4) Make healthy nutritional choices
Be sure you are eating a well-balanced diet that includes vegetables, fruits, grains (mostly whole grains), dairy (low-fat milk, yogurt, and cheeses), and proteins (meats, eggs, seafood, nuts, and soy). Avoid "empty calories" such as food and beverages that are mostly sugar, fat, or alcohol. If you want to start a new formal diet plan, discuss it with your primary healthcare provider to make sure it aligns with any health conditions you may have.
5) Drink more water
Drinking enough water daily is an important puzzle piece to nurturing your body. How much? About 15.5 cups (3.7 liters) of fluids a day for men and about 11.5 cups (2.7 liters) of fluids a day for women.
Start carrying a water bottle with you throughout the day. Choose water over sugary drinks. Not only is this a healthy option, but it can also save you money. Add lemon, lime, or other fruit to your water to improve the taste.
6) Check-in on your mental health
Be aware of your mental health. Meditation and mindfulness are good ways to stay present and in-tune with emotions. Being "mindful" can help you become better aware of who you are and how you are feeling, helping you to better cope with situations around you. If your mental health becomes a concern, don't hesitate to reach out to your primary healthcare provider.
7) Spend time outdoors
Spend time outside in nature. It can be mentally and physically therapeutic. Sunshine can increase vitamin D levels which is important for bone health and it also plays an important role in mental health. Spending more time outside, means less time watching TV or working on the computer. By the way, if you spend more time outside, your exercise time will also increase.
8) Maintain healthy relationships
Make an effort to maintain healthy relationships. Limit those that don't bring you happiness. Call up an old friend. FaceTime a family member you haven't talked to in a while. Create a virtual happy hour with close friends. Take a socially distanced walk outside with a loved one. Having a good support system is more important now than ever.
9) Read a book
Keeping the brain active helps keep the mind healthy. Find a local library in your neighborhood that has books. Look for e-books or audiobooks for rent and try to read a chapter per day.
10) Don't forget about self-care
Take time to do what makes you happy. Self-care allows you to give your best self to others. It is hard to care for others when you are not caring for yourself. Take a warm bath. Go on a long peaceful walk. Take an online restorative yoga class. Color or paint a picture. Try to set aside an hour every week to do something that makes you smile.
ATSU-CGHS graduate nursing program recognizes the importance of whole health nursing and nurturing one's body in the ways described. Students have assignments and experiences throughout their courses which help them reflect on themselves while also reflecting on their practice.
At the end of each course, in their strategic practice narrative, students focus on wellness and physical well-being by assessing personal and professional self-care strategies. The strategic practice narrative is a portfolio containing personal and professional assessments that inform practice.
---
References
American Heart Association. (2018, April 18). American Heart Association Recommendations for Physical Activity in Adults and Kids. https://www.heart.org/en/healthy-living/fitness/fitness-basics/aha-recs-for-physical-activity-in-adults
The American Heart Association recommends at least 150 hours per week of moderate intensity aerobic activity (brisk walking, dancing, gardening, tennis) or 75 minutes per week of vigorous aerobic activity (running, swimming labs, cycling).
Center for Disease Control and Prevention. (2021, January 12). Water and Healthier Drinks. https://www.cdc.gov/healthyweight/healthy_eating/water-and-healthier-drinks.html?CDC_AA_refVal=https%3A%2F%2Fwww.cdc.gov%2Fhealthywater%2Fdrinking%2Fnutrition%2Findex.html
The National Academies of Science, Engineering, and Medicine. (2004, February 11). Report Sets Dietary Intake Levels for Water, Salt, and Potassium. https://www.nationalacademies.org/news/2004/02/report-sets-dietary-intake-levels-for-water-salt-and-potassium-to-maintain-health-and-reduce-chronic-disease-risk
Watson, N. F., Badr, M. S., Belenky, G., Bliwise, D. L., Buxton, O. M., Buysse, D., Dinges, D.F., Gangwisch, J., Grandner, M.A., Kushida, C., Malhotra, R.K., Malhotra, J.L., Patel, S.R., Quan, S.T., & Tasali, E. (2015, June 1). Recommended Amount of Sleep for a Healthy Adult: A Joint Consensus Statement of the American Academy of Sleep Medicine and Sleep Research Society. https://www.ncbi.nlm.nih.gov/pmc/articles/PMC4434546/