ATSU-CGHS Adaptive Sports Graduate Certificate, created by US Paralympic athletic trainer, an opportunity for all healthcare providers
Posted: May 24, 2021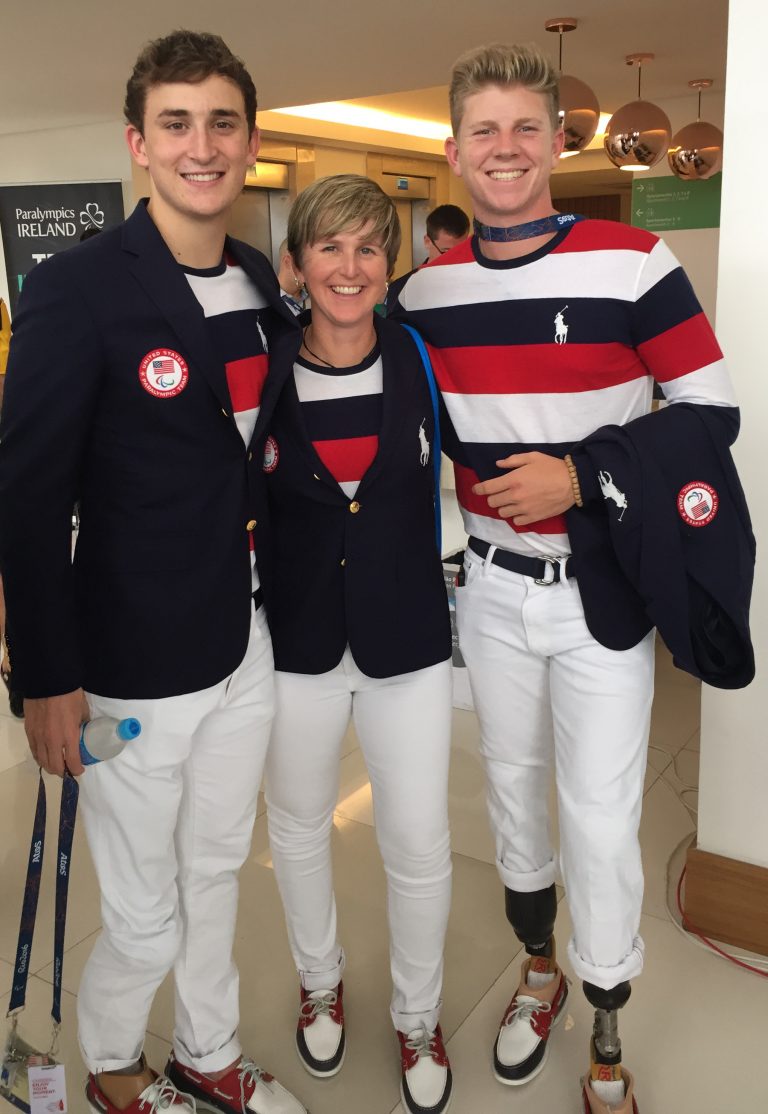 Sheri Walters, PT, PhD, DPT, SCS, ATC/L, CSCS, had always wanted to be part of sports at the highest level possible. She remembers watching the Olympics as she grew up, fascinated by athletic achievements on a global stage.
After earning her athletic training degree, Dr. Walters decided to make that dream a reality, volunteering with the U.S. Olympic Committee (USOC), which sent her to the Chula Vista Elite Athlete Training Center in California for her rotation. She worked with athletes in various sports, including those training for the Paralympic Games.
It was an eye-opening experience, one that changed the course of her professional life and led to creation of the Adaptive Sports Graduate Certificate at A.T. Still University's College of Graduate Health Studies (ATSU-CGHS). The Adaptive Sports Graduate Certificate is one of five distance learning certificate offerings under ATSU-CGHS' Master of Science in Kinesiology program. The offerings can be taken individually as certificates, or, under the master of science program, all students choose one or two track offerings to complete their degree.
"A lot of people are afraid of working with this population because they are afraid they are going to hurt someone. There's this massive hesitation. A kid shows up in a wheelchair to a high school track practice, and they don't know what to do with them," Dr. Walters said. "Most of even the elite-level coaches will tell them, if you're starting out in wheelchair racing, for example, they start out doing the same program as able-bodied athletes, just with whatever modifications or adaptations they need.
"As a healthcare provider, I wanted to create educational opportunities to help bring awareness to the potential opportunities and prepare people to work with athletes, to be able to modify exercise or rehabilitation programs to fit individual needs."
Addressing education deficit through Adaptive Sports Track Graduate Certificate
Dr. Walters, an assistant professor of kinesiology at ATSU-CGHS and creator of the Adaptive Sports Graduate Certificate program, identified a widespread education deficit in the athletic training and physical therapy fields. It was easy for her to identify, she said, because she had it herself.
Raised in a small Oklahoma town, Dr. Walters grew up with a father who had a below-knee amputation when he was a teenager, and a cousin who used a wheelchair. She'd received an undergraduate degree in athletic training, gone to graduate school, and interned in professional sports.
But it wasn't until her time at Chula Vista that she learned about Paralympic athletes, opportunities that existed for them, and the role athletic trainers played in their sports.
"Everyone you work with there ends up rating you," Dr. Walters said, "and those ratings determine whether you get asked to do anything ever again."
Dr. Walters felt she made great connections with the Paralympians, who in conversations with her confided they'd often not felt taken seriously or given the same level of attention and care as their able-bodied peers. Perhaps because of her personal family experiences, Dr. Walters' honest curiosity and earnest efforts resonated, and a short while later the USOC asked her to go to Brazil with the U.S. kayak team.
In the middle of a probationary period with a new job, though, she had to turn them down, and needed to do so again when they asked her to go to Puerto Rico with the U.S. softball team.
"They say when you volunteer and USOC asks you to go, if you don't go, you don't get asked again," Dr. Walters said.
Those requests came within a few months in 2006. Dr. Walters didn't hear from the USOC again until 2011.
"They were trying to find somebody to go with the national team. They had gone back through and checked all the ratings, and that's how they found me to go to the Pan American Games with the Paralympic track and field team," Dr. Walters said. "I haven't turned anything down since then. I just go."
Her destinations with the Paralympic team have included the London Paralympics in 2012, Rio Paralympics in 2016, and several world championship events across the globe, all on a volunteer basis.
"The reasons everybody, including myself, continues to do it, they are the most fun group of athletes to work with, and their performances are at such a high level," Dr. Walters said. "It is elite sport. There is an undertone of the physical impairment or disability, and when these athletes make these achievements, it is huge for them for a lot of different reasons."
Aside from volunteering, Dr. Walters worked as head athletic trainer at Indiana State University and then as a physical therapist with EXOS, a national brand in human performance, where she trained athletes including Los Angeles Dodgers pitcher Clayton Kershaw. She's also had opportunities with the U.S. Olympic team, including the women's hockey team that won gold in 2018 at Pyeongchang.
Adaptive Sports Graduate Certificate consists of four courses, can be completed in one year
Through a former Indiana State colleague, Dr. Walters learned of ATSU and began working as an adjunct professor before applying for an assistant professor position. She pitched the Adaptive Sports Graduate Certificate program during her interview, and got to work on designing the courses soon after accepting the job.
The program consists of four courses – Introduction to Paralympic and Adaptive Sport, Establishing and Managing an Adaptive Sports Program, Assessment of the Para Athlete, and Comprehensive Adaptive Sport and Activity Analysis. One of the four courses is offered in each quarter, allowing a person to complete the program in as little as a year.
Dr. Walters said Introduction to Paralympic and Adaptive Sport provides foundational knowledge of different athletic opportunities for para athletes, while the assessment and analysis courses educate on high-level performance program development and analytics. The management course provides students with tools to administer their own programs and understand different requirements related to things like the Americans with Disabilities Act.
Those seeking the certification come from various backgrounds. Some are people with their own existing courses and programs who want to begin offering adaptive options, while some have military backgrounds and have seen the need for knowledgeable athletic trainers from the perspective of programs like Wounded Warriors. And still others come from firsthand experience with family or friends, knowing there is a hole in existing athletic training programs that would benefit their loved ones.
"That's where this Adaptive Sports track developed, in recognizing there is nothing available, and there is actually a huge need for it," Dr. Walters said.
To learn more about ATSU-CGHS' distance learning Adaptive Sports Graduate Certificate, Master of Science in Kinesiology program, or other University programs, visit our website at atsu.edu/cghs.