ATSU celebrates Founder's Day
Posted: November 1, 2013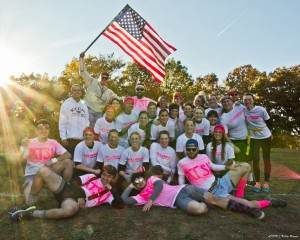 Founder's Day 2013 kicked off to a great start this year with festivities starting on the Mesa campus under sunny skies and culminating in Kirksville under beautiful fall colors and brisk fall breezes! The University was able to celebrate Founder's Day on both campuses and each had their own twist of excitement.
Faculty, staff, and students gathered on the Mesa campus to celebrate Founder's Day with the theme of a fall festival. This year, the Arizona campus Founder's Day celebration was held on Friday, Oct. 18 from 4 to 7 p.m. On hand were free popcorn, cotton candy, snow cones and activities for adults ages 21 and older (including a cash bar beer garden and free wine-tasting). As well, there were fun-filled activities for children including carnival games, inflatables, a Velcro wall, and rock-climbing wall.
University spirit was alive and well on the Missouri campus for the 2013 Founder's Day celebration. A.T. Still University's Kirksville College of Osteopathic Medicine alumni from the classes of 1963 and 1988 celebrated their 25th and 50th class reunions. Faculty, staff, students, and alumni had the opportunity to participate in several events, including a Hero Healer luncheon with ATSU-Arizona School of Dentistry & Oral Health's George Blue Spruce, DDS, MPH, assistant dean. Jack Magruder, EdD, president emeritus, received the Living Tribute Award at the all-campus meeting. Founder's Day activities wrapped up with the annual Still-a-bration barbecue and bonfire on Friday night, and a 5k race on Saturday.