ATSU awarded 2014 Military Friendly Schools designation
Posted: September 10, 2013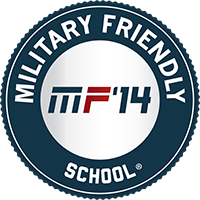 Victory Media, the premier media entity for military personnel transitioning into civilian life, has named A.T. Still University (ATSU) to the coveted Military Friendly Schools® list. The 2014 Military Friendly Schools® list honors the top 20 percent of colleges, universities, and trade schools in the country that are doing the most to embrace America's military service members, veterans, and spouses as students and ensure their success on campus. In the 2012-13 academic  year, ATSU had 126 students serving in the U.S. Military.
"Inclusion on the 2014 list of Military Friendly Schools® shows ATSU's commitment to providing a supportive environment for military students," said Sean Collins, vice president at Victory Media and a nine-year Navy veteran. "The need for education is growing and our mission is to provide the military community with transparent, world-class resources to assist in their search for schools."  Complete survey methodology is available at militaryfriendlyschools.com/Article/methodology-press-kit.
Serving the U.S. Air Force, Army, and Navy, military students from ATSU-Kirksville College of Osteopathic Medicine (ATSU-KCOM) and ATSU-School of Osteopathic Medicine (ATSU-SOMA) represent the majority of ATSU students who answer our nation's calling. Eight percent of ATSU-KCOM students and five and a half percent of ATSU-SOMA students match into military residencies.
A percentage of osteopathic medical students in the military are recipients of the Health Professions Scholarship Program (HPSP), which offers prospective military physicians a paid medical education in exchange for service as a commissioned medical officer.
KCOM and SOMA military students on HPSP
Air Force = 35%
Army = 37%
Navy = 28%
SAMOPS organization on campus
The Student Association of Military Osteopathic Physicians and Surgeons provides support and guidance to members with respect to military customs and training during medical school. It also helps members better understand their roll in military medicine as a commissioned officer and healthcare provider.
The Military Friendly Schools® media and website, found at www.militaryfriendlyschools.com, feature the list, interactive tools, and search functionality to help military students find the best school to suit their unique needs and preferences. The 1,868 colleges, universities, and trade schools on this year's list exhibit leading practices in the recruitment and retention of students with military experience.  These schools have world-class programs and policies for student support on campus, academic accreditation, credit policies, flexibility, and other services to those who served.