ATSU audiology professor receives prestigious award
Posted: December 1, 2010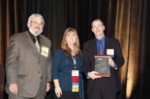 Henry Trahan, Au.D.; Tabitha Parent-Buck, Au.D.; and Thomas G. Rigo, Ph.D.
Thomas G. Rigo, Ph.D., associate professor, ATSU-ASHS Audiology program, was recently presented with The Academy of Doctors of Audiology's (ADA) Joel Wernick Award at the ADA conference held in San Antonio, Texas, November 4-6. The award is presented annually in recognition of outstanding educational contributions within the professions of audiology or hearing science. Dr. Rigo was nominated by audiology's graduating class.
The award honors Joel Wernick, Ph.D., who was an active supporter of the ADA from its inception. He was a prominent scientist, teacher, author and industry executive that exemplified service through his commitment to dispense education and his willingness to share his own knowledge for the benefit of his peers and the profession.
Knowing early on that he had a passion for teaching and introducing students to audiology, Dr. Rigo has taught and administered audiology programs at the University of Louisiana at Lafayette and ATSU-ASHS for more than 25 years. In addition to his work in the classroom and the clinic, Dr. Rigo has published in numerous scholarly journals and presented extensively in the areas of auditory processing disorders, aural rehabilitation, and multi-modal perception of speech. He is also a member of the American Academy of Audiology and the American Speech-Language-Hearing Association. Dr. Rigo also serves on the Arizona Licensing Committee for Hearing Aid Dispensers, Audiologists, and Speech Language Pathologists.
Graduating audiology students said this of Dr. Rigo in their nomination letter: "There is no one else we can point to who has influenced the development of so many future audiologists or has done it with more joy, energy, and passion than Dr. Rigo. He exemplifies the true spirit of audiology in everything he does for the profession. The award would recognize both his long-standing and continuing commitment to excellence as an educational leader and his role as an active and vocal advocate of the Doctor of Audiology degree."
In 2002, Dr. Rigo was appointed to the Department of Audiology at ATSU-ASHS. He stepped into a role that would allow him to assist with the development of an accredited audiology program from the ground up. Today, the ATSU Audiology program is one of the top residential Au.D. programs in the country. Since the first class of Au.D. students at ATSU-ASHS matriculated, Dr. Rigo has been voted the Outstanding Teacher of the Year, every year. Dr. Rigo was selected because of his unmatched ability to adapt to each student's learning style.
"Dr. Rigo is a highly dedicated professional with a dynamic teaching method, whose effective communication abilities and classroom activities have an exceptional way of promoting understanding, motivating students to learn, and reinforcing students' knowledge and skills," said Tabitha Parent Buck, Au.D., associate professor and chair, audiology. "In spite of his gifts, he is humble and approachable and enjoys sharing his extensive knowledge with others, particularly his students."
Dr. Rigo has been described by students and colleagues as an "exemplary professor, colleague, and audiologist. He stands out from other professionals in his contribution to teaching and advocating for audiology. His joy, enthusiasm, and drive for the profession are infectious and others should look to him for inspiration in how to succeed in their careers and lives."
Dr. Rigo has been a pioneer of the audiology profession since beginning his studies in Communication Disorders more than 30 years ago. He received his B.S., M.S., and Ph.D. degrees in communicative disorders and audiology from Florida State University.