ATSU Athletic Training Student Association Update
Posted: June 10, 2016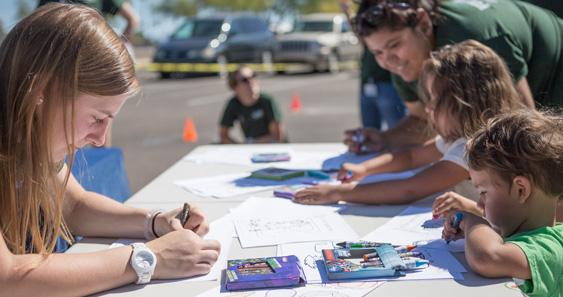 The Athletic Training Student Association was once again very active during the 2015-2016 academic year. We gained 10 new members of the organization with the addition of the class of 2017. Among these new students, three served on the executive board and added greatly to the organization's leadership. Throughout the year, the association maintained its service-oriented goals through participation in multiple events at the University and within the local community. Although a small organization, ATSA made a large impact on those it served.
To kick off the year, ATSA participated in a campus-wide interprofessional event to provide physicals for Special Olympics athletes during the National Day of Service. Our students contributed as clinicians, evaluating the Special Olympics athletes during musculoskeletal screenings. Athletic Training students paired up with first and second year Physical Therapy students and provided guidance in performing a musculoskeletal screening, including muscular strength, flexibility, and neuromuscular reflexes. It was a positive experience for everyone as they learned more about each other's programs and working with athletes with special needs.
The ATSA continued its strong relationship with Mesa Parks and Recreation and the Positive Play Project, providing coach and parent education on concussions, nutrition, hydration, and flexibility in the fall and spring seasons. This year Mesa Parks also included two Coaches Workshops where ATSU AT students provided practical training on proper warm up and stretching techniques to volunteer coaches. Students also engaged in community outreach and education during the Celebrate Mesa event, where they interacted with parents and youth athletes.
At the end of October, ATSA worked with the Arizona School of Dentistry and Oral Health (ASDOH) to provide neuromuscular screenings during the annual Day for Special Smiles. This event is a day of free oral health evaluations and dental cleaning for patients with special circumstances. A Day for Special Smiles was a great event for our students to interact with ASDOH students and instructors, a group whom they rarely see on campus. Over the course of the day, 13 athletic training students assisted in the care of 78 patients, all of whom received over $15,000 in dental and medical care.
Continuing the long held ATSA Christmas tradition, we were able to purchase Christmas presents for eight children in the community through the Salvation Army's Angel Tree program. A group of ATSA students met at a local Wal-Mart, selected children from the tree, and went shopping for the presents on the kids' lists. Our students divided the money for each child and spent it equally on each child's needs and wants. It was Christmas after all!
February quickly came with a visit from Adam Annaccone, Assistant Athletic Trainer for the Phoenix Suns. The ATSU Sports Medicine Club invited Adam to speak about his role as an athletic trainer in professional sports, the sports medicine team at the Suns, and advice for students as they graduated and worked toward their dreams. Athletic Training students were also involved in the Sports Medicine Club throughout the year, with presentations on functional movement screening, injury prevention, and sideline evaluations.
In March, the Athletic Training program hosted the annual ATSA High School Workshop for over 100 students from high school sports medicine programs across Arizona. The workshop included sessions on virtual anatomy, sideline concussion evaluation, rehabilitation and taping of the upper extremities, an ATSU professions student panel, and a Quiz Bowl. ATSA students developed teaching points and led each of the 40-minute sessions. They then created questions for the Quiz Bowl based off of the information in sessions. Once again, the High School Workshop was a success!
The year ended with ATSA's involvement in the campus-wide Free Community Health and Wellness Day. Athletic training students ran an obstacle course for the children after they went through other medical screenings. The ATSA was responsible for providing education to parents and children on the importance of physical activity and nutrition. It was a great event for our students to work alongside other programs at ATSU and to have a positive impact on our community.
Overall, this was a very successful year for the Athletic Training Student Association. Engagement in interprofessional collaboration, leadership development, community education and service drove the activities in which we participated. Thank you to the first years for contributing so much to the organization, and congratulations and good luck to the second years in future endeavors!