ATSU-ASHS welcomes class of physician assistant students with White Coat event
Posted: November 10, 2021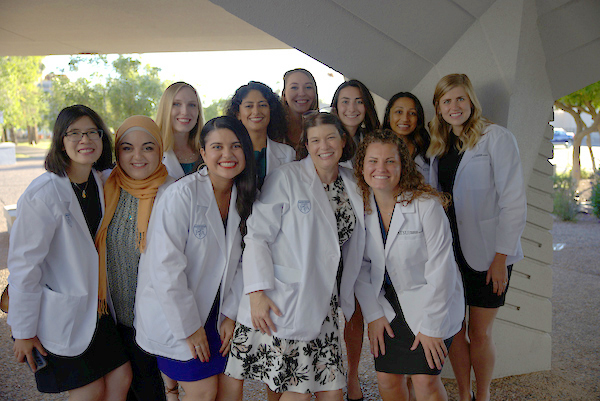 A.T. Still University's Arizona School of Health Sciences (ATSU-ASHS) welcomed 74 students to its Physician Assistant program during a traditional White Coat Ceremony on Oct. 29, 2021.
Michelle DiBaise, DHSc, PA-C, DFAAPA, professor and chair, said the white coat was a sign of the commitment students are making to their future patients, faculty, staff, preceptors, families, communities, fellow students, and themselves.
"It marks your entrance into a community of healthcare providers. It serves as a symbol of the professionalism, caring, and trust you must earn from your patients," Dr. DiBaise said.
Physician assistants are among the fastest growing professions in the U.S., and the demand will only continue to grow to meet healthcare needs.
"What a difference your profession makes in our healthcare world, increasing access to the underserved, contributing to decreasing health disparities, contributing to scholarship, science, and collaborative care," said Ann Lee Burch, PT, EdD, MS, MPH, ATSU-ASHS dean and associate professor.
Norman Gevitz, PhD, senior vice president-academic affairs, noted the program earned maximum accreditation during its last review, with visitors impressed by both ATSU's mission and the program's capacity to achieve its four stated goals.
"First, to foster an attitude of service to those less fortunate by cultivating a culture of compassion and service to the underserved. Second, to produce graduates who are well steeped in teamwork by providing interprofessional experiences. Third, to promote whole person healthcare by including elements of mind, body, and spirit across the curriculum. And fourth, to educate students in a learning-centered environment that promotes self-directed learning," Dr. Gevitz said. "We are a mission-centered University and our goal is to educate competent, caring, and holistically educated health practitioners."
ATSU-ASHS alumnus Will Koopal, MSPA, PA-C, '19, delivered the keynote address, reminding students while the next year of didactic education will be difficult and at times they will feel uncertain, to channel those feelings into motivation, take care of themselves, and remember their journey to this point.
"Don't be too hard on yourself. Relax. You will make it through the didactic year. It is very challenging, but you will make it. It's up to you. Anything in life worth having is going to be hard.
Just know that you are here because of who you are, not in spite of who you are," Koopal said.