ATSU-ASHS welcomes 70 new students as part of Physician Assistant program class of 2024
Posted: July 18, 2022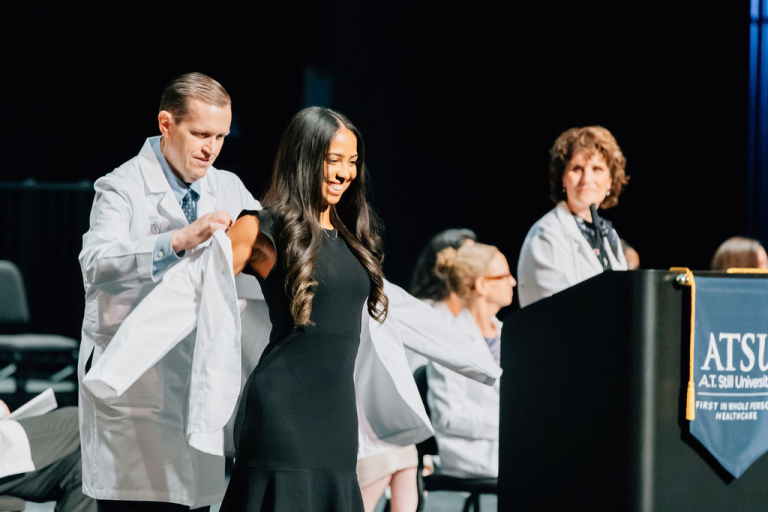 A.T. Still University-Arizona School of Health Sciences' (ATSU-ASHS) Physician Assistant (PA) program held a White Coat Ceremony for the class of 2024 on Friday, July 15, 2022, in Mesa, Arizona.
Ann Lee Burch, PT, EdD, MS, MPH, ATSU-ASHS dean and associate professor, told the 70 incoming students they are beginning a course toward becoming integral members of their communities.
"You will now be embarking on a course of study which is quite remarkable, one which will train and educate you to become a healer, committing your professional life to bringing optimal health to individuals and communities," Dr. Burch said.
Michelle DiBaise, DHSc, PA-C, DFAAPA, '14, professor and PA department chair, said the white coat they received symbolized a transformation and acceptance of the responsibilities that come with the role of a healthcare professional.
"It marks your entrance into a community of healthcare providers," Dr. DiBaise said. "It serves as a symbol of the professionalism, caring, and trust you must earn from your patients. It stands as a marker of transformation from student to health professional."
In providing the keynote address, Linda Knutson, MSPA, MEd, PA-C, adjunct faculty member and retired emergency medicine PA, told students they faced a choice between becoming a mediocre PA and an exceptional one.
The mediocre PA, she said, puts in their time, does their job, and goes home, while the exceptional one continues to put in the work to be the best provider they can be for their patients. By choosing ATSU-ASHS, they've already taken a step toward exceptional.
"In order to become an exceptional PA, you first need to become an exceptional PA student," Knutson said. "The choices you make while in school will affect the way you practice forever. I believe all of you have already made one excellent choice by choosing the ATSU-ASHS PA program, because to be exceptional, you also have to have opportunities. This PA program has an extraordinary chair, faculty, and staff, all of whom are committed to giving you the best opportunity you could have. The program is progressive, it's learner-centered, and it uses multiple methods of instruction. The opportunities for you to be exceptional are here for the taking. It's up to you to accept the challenge to look for those opportunities."
Watch the full ceremony here: