ATSU-ASHS Master of Science in Occupational Therapy alumna grateful for program's support
Posted: July 7, 2023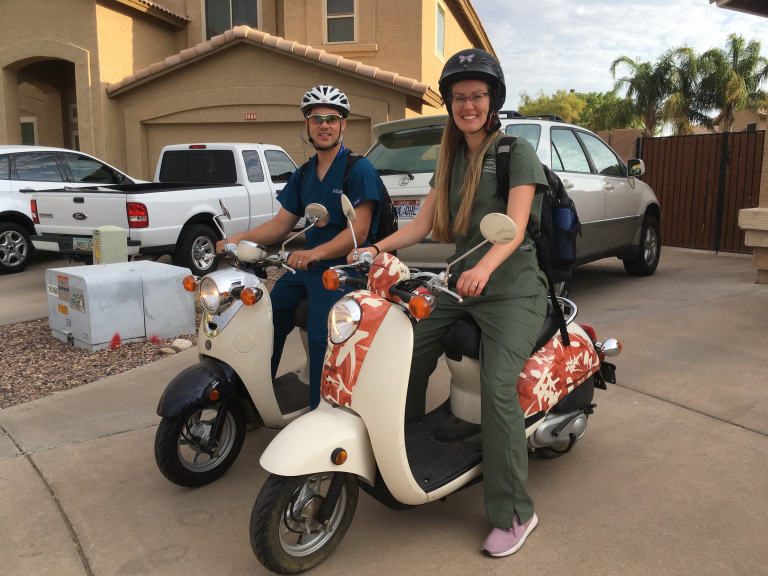 Savannah Burrup and her husband prepare to ride to campus in Mesa, Arizona.
A.T. Still University-Arizona School of Health Sciences (ATSU-ASHS) Master of Science in Occupational Therapy alumna Savannah Burrup, MSOT, '21, says ATSU not only helped prepare her for her career, but has continued to support her in numerous ways after graduation, as well.
ATSU-ASHS faculty worked to place Burrup in her preferred fieldwork site in Cincinnati, where her husband, an ATSU-School of Osteopathic Medicine in Arizona student, was placed for his clinical rotation. That led to her first job as an occupational therapist (OT), which provided her support and mentorship as a new graduate, and as a working professional during her pregnancy. 
After giving birth to her daughter, Burrup and family moved back to Mesa, Arizona, where her husband began work as an ATSU-SOMA fellow. Burrup took a temporary position in hand therapy, providing maternity coverage for a fellow alumna and said Jennifer Radziak, OTD, OTR/L, CHT, program director and assistant professor, was instrumental in helping prepare her for the new work setting by connecting her with resources and providing support and mentorship. 
Now, Burrup and her family are preparing to move back to Cincinnati, and her professor, Katie Jones, MA, OTR/L, CLT-LANA, has been helping prepare her to interview for school-based OT positions in Ohio.
"I feel the ATSU-ASHS Occupational Therapy department has gone above and beyond offering support to me as a recent graduate of their program as I navigate work in various settings," Burrup said.
Originally from Wasilla, Alaska, Burrup has a bachelor of science in recreational therapy from Brigham Young University. ATSU's mission and vision appealed to Burrup in her search for an OT program, as did the fact both she and her husband were accepted into their respective programs.
While a student, Burrup was a member of several organizations, including the Student Occupational Therapy Association, ATSU Center for Occupational Therapy and Physical Therapy board, and Interprofessional Education Committee.
She was also a student ambassador, and remains involved with the program today.
"I became a student ambassador because I am passionate about the field of occupational therapy and helping others on their path to becoming an occupational therapist. I enjoyed being able to interact with prospective students to share my enthusiasm for the field of OT and answer their questions about the program, student life, financial aspects of being a graduate student, and other concerns," Burrup said.
Looking ahead in her career, Burrup hopes to become a well-rounded OT, something she's off to a good start with given her variety of experiences so far.
"While each setting has been enjoyable and provided a lot of professional growth, I have been searching for the setting that is the right fit for me that will allow me to balance family life and work life optimally," Burrup said. "Ever since I was an ATSU student, I wanted to be a school-based OT, but life led me to other opportunities. I am excited to be pursuing options in school-based OT for my next professional experience and hope this setting is where I end up long-term."