ATSU-ASHS hosts commencement ceremonies for distance learning, residential programs
Posted: June 3, 2022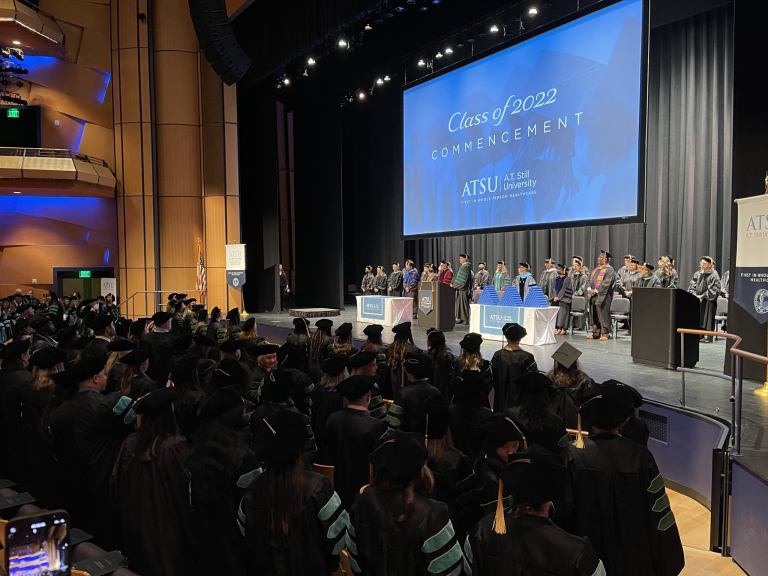 The scene at ATSU-ASHS commencement, June 3, 2022.
A.T. Still University's Arizona School of Health Sciences (ATSU-ASHS) hosted commencement ceremonies for a combined 328 graduates from its distance learning and residential programs on Friday, June 3, 2022, in Mesa, Arizona.
In distance learning, five students graduated from the Master of Science in Physician Assistant Studies program, 27 from the Doctor of Athletic Training program, 23 from the Post-Professional Doctor of Audiology program, 91 from the Doctor of Medical Science program, and 52 from the Postprofessional Doctor of Physical Therapy program.
In residential programs, six students graduated from the Master of Science in Athletic Training program, 31 from the Master of Science in Occupational Therapy program, 11 from the Doctor of Audiology program, 21 from the Doctor of Occupational Therapy program, and 61 from the Doctor of Physical Therapy program.
Ann Lee Burch, PT, EdD, MS, MPH, dean and associate professor, ATSU-ASHS, praised graduates for their accomplishments and unique contributions to the University.
"This is a day of new beginnings, of joy, of pride, of hope. Graduates, you are quite possibly entering one of the most vibrant times of your life, where your skills and humanity have never been more needed in communities across the country and around the world. We celebrated your graduation from ATSU today as you exemplify all that we believe in: whole person healthcare, commitment to the underserved, educational excellence, and community," Dr. Burch said.
"You have brought to ATSU your diversity of thought and background. You have brought to us your voices as students, your ideas, recommendations, and opinions, and we have learned from you. This diversity among us continues to enrich our learning culture, and is so crucial to the effectiveness of care in our communities."
Craig Phelps, DO, '84, ATSU president, congratulated graduates for pursuing and completing their degrees in the face of adversity.
"Just a tremendous effort on your part, through the pandemic, through all of the things occurring in life, to say, 'I want to improve my knowledge, my skills, and I want to become a leader.' Thank you for taking time to complete that during one of the most difficult times in our nation's history," Dr. Phelps said.