ATSU-ASHS faculty members receive awards for 2021-22 academic year work
Posted: July 6, 2022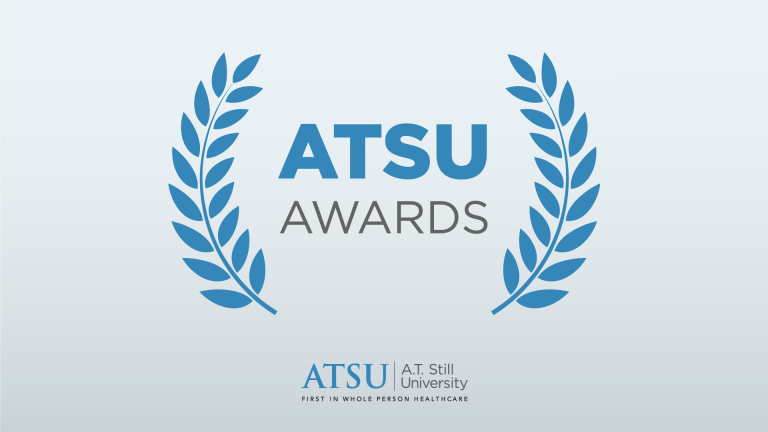 A.T. Still University's Arizona School of Health Sciences (ATSU-ASHS) Dean Ann Lee Burch, PT, EdD, MPH, presented awards during a virtual ATSU-ASHS faculty assembly in May.
Faculty members were nominated and selected by their fellow colleagues for their contributions during the 2021-22 academic year. The following list includes the award name, award recipient, and quotes from nominating colleagues.
2022 Service of the Year Award: Jennifer Radziak, OTD, OTR/L, CHT, assistant professor and fieldwork coordinator, Department of Occupational Therapy.
"Dr. Radziak serves as a faculty supervisor and Faculty/Student Board member of the ATSU Center for Occupational and Physical Therapy. She is also serving as a content expert for the American Occupational Therapy Association in developing the newly redesigned Occupational Therapy Board Certification in Physical Rehabilitation. Dr. Radziak enjoys mentoring students with an interest in hand and upper extremity therapy, and serves as the faculty supervisor for the Student Hand Therapy Club."
2022 Junior Faculty of the Year Award: Pamela Kays, PT, DPT, EdD.
"Dr. Kays joined the DPT program as full-time faculty in 2019. Since that time she has earned her EdD, presented her first peer-reviewed platform research report, and published her first manuscript in a peer reviewed journal. She has also achieved board-certification as a Women's Health Clinical Specialist and achieved certification as a Pelvic Rehabilitation Practitioner. She served as a reviewer for the Journal of Women's Health Physical Therapy and served on the Education Review Committee for the Academy of Pelvic Health. She has been promoted to director of curriculum of the Doctor of Physical Therapy program and was the recipient of the 2021 ATSU Innovation in Teaching for Learning Award.
2022 Educator of the Year Award: Cailee E. Welch Bacon, PhD, ATC.
In 2021, Dr. Welch Bacon brought together a team of 10 athletic training educators, researchers, and practicing clinicians, and secured grant funding to develop and launch a cost-free academic electronic medical record (AEMR) to improve patient care documentation quality and behaviors, which will be available to all athletic training programs nationwide. Dr. Welch Bacon enjoys mentoring students on research related activities and to date has co-authored several article publications and regional/national research presentations with 104 athletic training students. Dr. Welch Bacon has also focused on educational offerings for practicing athletic trainers nationwide through the Athletic-Training Practice-Based Research Network. In April 2022, Dr. Welch Bacon was selected as the recipient of the National Athletic Trainers' Association Emerging Educator Award.