ATSU-ASHS Doctor of Physical Therapy student says program 'lived up to all the hype'
Posted: August 25, 2022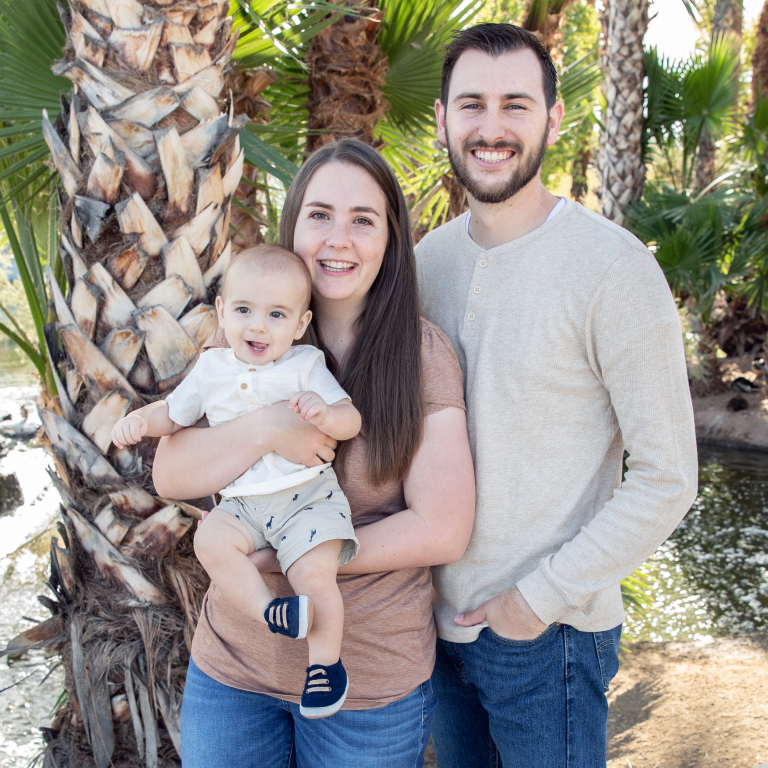 Everett Lunt, DPT, '24, poses with his family.
A.T. Still University-Arizona School of Health Sciences (ATSU-ASHS) Doctor of Physical Therapy program student Everett Lunt, DPT, '24, has felt right at home since beginning classes on the Mesa, Arizona, campus.
"I love the community and friendliness of students and teachers," Lunt said. "I love being able to have a great place to learn and grow in my field. The support that my cohort gives to one another has truly made school easier and much more fulfilling."
Lunt is from Snowflake, Arizona, and has a bachelor's degree in kinesiology from Arizona State University. When he decided to advance his education, ATSU-ASHS fit and not only because it was close to home.
"The School has a great reputation, and awesome and helpful faculty who care about our future as PTs," Lunt said. "I've met great mentors and friends from ATSU, and so far it's lived up to all the hype."
Some of those mentors include student ambassadors, who helped Lunt learn about ATSU's program during the application process.
Lunt was so inspired by the ambassadors that he chose to become one after he was accepted.
"I thought I could help future and current students learn about the many opportunities that ATSU brings to the Mesa Valley," Lunt said. "I've learned so much in the DPT program and hope to inspire others to strive to learn the most they can."
When he isn't in class, Lunt enjoys activities like basketball, hunting, and most importantly, spending time with his wife and their child.
Ultimately, Lunt plans to absorb as much as he can while attending ATSU-ASHS and put the University's mission into practice after he graduates. 
"I hope to be the best physical therapist I can be, and ATSU's mission of whole person healthcare has given me the resources and mindset necessary to achieve that goal," Lunt said.