ATSU-ASHS Doctor of Audiology program student succeeding in role at prestigious Cleveland Clinic
Posted: August 28, 2023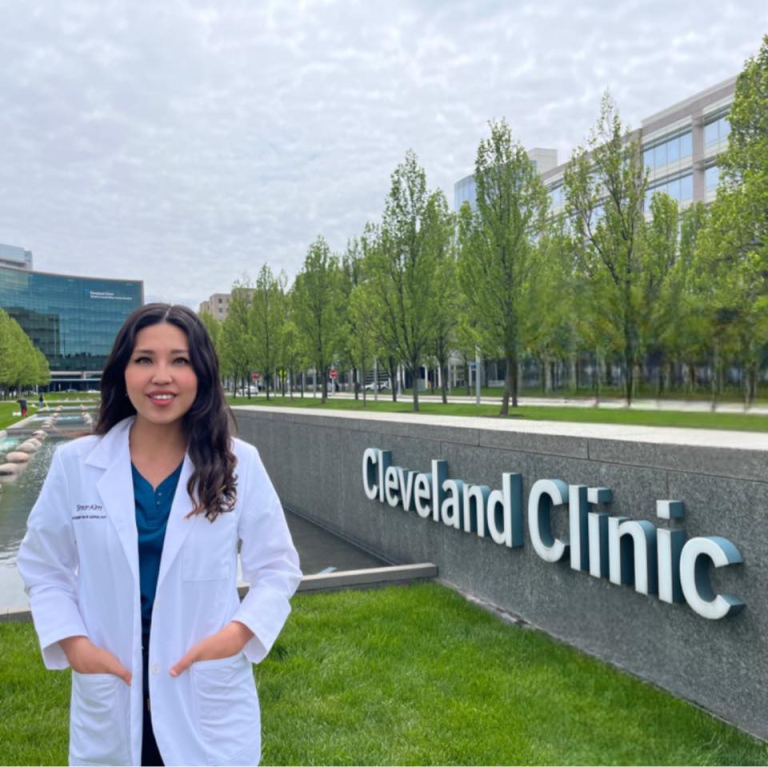 A.T. Still University-Arizona School of Health Sciences (ATSU-ASHS) Doctor of Audiology program student Shannon Kim, '24
A.T. Still University-Arizona School of Health Sciences (ATSU-ASHS) Doctor of Audiology program student Shannon Kim, '24, fully embraces ATSU's mission of whole person healthcare, something which was emphasized to her personally earlier in her time at the University. 
"During my second year at ATSU, I had a misdiagnosis experience that eventually led to my hospitalization," Kim said. "This gave a person insight into the importance of acknowledging a patient as a whole and not just checking off a series of boxes.
"Empathy is putting yourself in your patient's shoes. Think about how a certain health condition impacted their daily life activities, mental health, job opportunities, etc."
Kim, originally from San Diego, has a bachelor's of science in speech-language pathology from California State University San Marcos. She is currently an audiology extern at the Cleveland Clinic.
Kim has been highly involved at ATSU-ASHS, serving as the University's representative to the Arizona Speech-Language-Hearing Association, peer mentor leader with ATSU's Student Academy of Audiology chapter, a mental health ambassador, and ATSU Audiology student ambassador.
"Serving in our school's Student Academy of Audiology chapter as a peer mentor leader inspired me to run for the Public Outreach Chair of our national student body. I was elected and with the help of my committee volunteers, created tinnitus awareness posters that are now posted on the American Academy of Audiology's website," Kim said. "Depending on which ATSU program you are in, I highly recommend getting involved with your student chapter and then trying national leadership opportunities. Remember that you have so much potential and can bring great awareness to your healthcare specialty.
"One meaningful memory I have is presenting to high schools and colleges about audiology. This was for 'The Future in Health is YOU' student prospective series. I created a presentation detailing the value of audiological services in healthcare and had some individuals email me afterward. As the first in my family to enter higher academia, I wanted to encourage students to believe in themselves and always persevere in their dreams. Just because one door closes on me doesn't mean you should stop trying to open another."
Kim has received numerous honors for her work, including the 2021 ArSHA Outstanding Graduate Student Scholarship, Academy of Doctors of Audiology Emerging Leaders Scholarship, and ATSU Audiology Alumni Scholarship. She is also a former pageant winner and promoted advocacy in areas such as mental health and audiology.
She said ATSU has prepared her well for her current experience, and the future.
"ATSU helped me to prepare for my audiology training at the Cleveland Clinic, one of the most prestigious hospitals in the world. As a student, my professors taught me to not only challenge myself but to believe that I am capable. Mistakes are how we learn," Kim said. "In the future, I hope to eventually have my own practice and specialize in tinnitus and implantable hearing devices. I want to be an empathetic healthcare provider with strong clinical skills."