ATSU-ASHS celebrates Physician Assistant, Doctor of Medical Science program graduates
Posted: September 22, 2023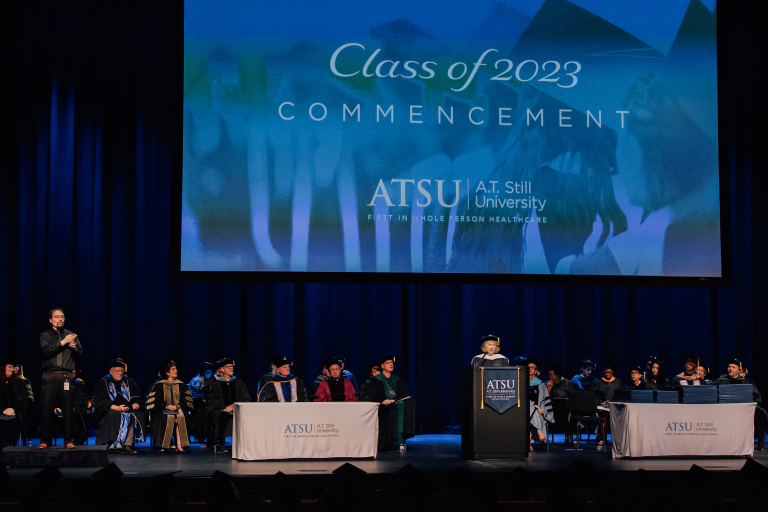 A.T. Still University's Arizona School of Health Sciences (ATSU-ASHS) celebrated the graduation of 66 students from its residential Master of Science in Physician Assistant Studies program and 86 students from its online Doctor of Medical Science program during a commencement ceremony Friday, Sept. 22, 2023, at the Mesa Arts Center in Mesa, Arizona.
Norman Gevitz, PhD, senior vice president, academic affairs, welcomed graduates and guests with the greeting, while ATSU-ASHS Dean Ann Lee Burch, PT, EdD, MS, MPH, provided a welcome message and introductions.
"This is a day of new beginnings," Dr. Burch said, "of joy, of pride, and hope. You are quite possibly entering one of the most vibrant times of your life, where you skills and humanity have never been more needed in communities across the country and around the world. We celebrate your graduation from ATSU today, as you exemplify all we believe in – whole person healthcare, commitment to the underserved, educational excellence, and community."
Kathy Pedersen, PA-C, MPAS, associate professor emeritus, University of Utah, delivered the commencement address, and was awarded an honorary Doctor of Science degree.
"You've invested in your career, you've engaged in work that makes the world a better place," Pedersen said. "Go and do good, and be good to yourselves."
Thomas Hartman, DMSc, '21, PA-C, '08, member, Arizona School of Health Sciences Alumni Association, inducted the graduates in the ATSU-ASHS Alumni Association.
ATSU President Craig Phelps, DO, '84, delivered the closing remarks.
Watch the complete ceremony here: