ATSU-ASHS audiology student named 2021 Outstanding Graduate Student by ArSHA
Posted: July 14, 2021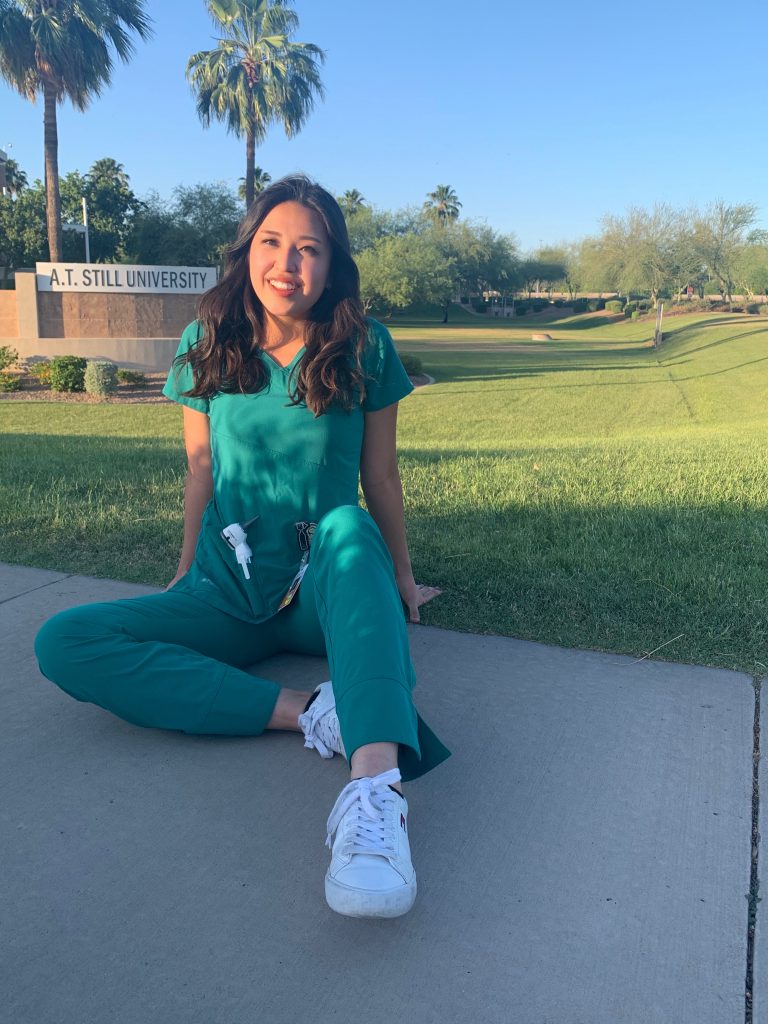 A.T. Still University-Arizona School of Health Sciences (ATSU-ASHS) audiology student Shannon Kim, '24, was named 2021 Outstanding Graduate Student by the Arizona Speech Language Hearing Association (ArSHA).
The award goes to one current ArSHA student member who has displayed strong clinical potential, leadership skills, and pre-professional involvement at the local, state, or national level.
We recently asked Kim a series of questions about the award and her future plans. Here's what she had to say…
Q: What do you do with ArSHA?
A: I served as the ATSU liaison representative for ArSHA. My responsibilities included encouraging advocacy and involvement in state and national professional issues, attending meetings approximately once a quarter, providing input to the board from the student perspective, and sharing any updates during grand rounds.
Q: Why was it important to you to get involved with ArSHA?
A: It is important to be involved to raise awareness about issues within audiology. I encouraged advocacy, such as sending emails about the HR 8702 bill to all audiology programs in Arizona and sharing about Arizona's Division of Developmental Disabilities needing to better assist families.
HR 8702 has been dubbed "The Holding Providers Harmless from Medicare Cuts during COVID-19 Act." It will temporarily address cuts to Medicare Part B's reimbursement of audiology and speech-language pathology reimbursement until a longer-term solution is developed. I signed up to moderate "Using TeleAudiology to Increase Patient Access to Care" for the ArSHA Convention in April 2021 and learned about the importance of regulating over-the-counter hearing aids.
Q: What led you to pursue audiology?
A: I want to help people realize the beauty of life again. Hearing loss can be socially isolating and can make one at risk of depression, anxiety, and more. From personal experience, I know what it feels like to be alone through your struggles. While from a social media perspective it looked like I "had it all," my personal life was in shambles. It was a rough period of my life where I learned that working through my pain and not being able to grieve properly truly felt like heartbreak. However, this also made me want to be even more ambitious since I knew that resilience was one of the personal strengths. Enduring grief and trauma while leaving a mentally abusive friendship made me more empathetic and know that anyone can be fighting a battle you know nothing about. I will listen to my future patients and do the best I can for them to relive life once again.
Q: What are your ultimate career plans?
A: I hope to have my own private practice in La Jolla, California, and offer hearing aid and tinnitus services. I want to start a pro-bono fund that assists low-income families. I hope to do research at Stanford about the audiological relationship between tinnitus and temporomandibular joint disorder someday.
Q: How will this award help you achieve those goals?
A: I plan to use the scholarship money to pay off my loans. This award motivated me in that I can continue to be successful despite the hardships I endured. I am so thankful to the ATSU audiology faculty who always answered my questions with patience and all the Student Academy of Audiology (SAA) chapters in Arizona who worked with me during my time as the SAA Arizona ambassador. I am blessed with supportive family and friends who have cheered me on constantly. To be surrounded by such motivated individuals and incredible professionals is such an honor and I could not have received this award without them.