ATSU-ASHS Athletic Training program welcomes NATA president
Posted: September 8, 2009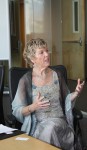 NATA President Marjorie Albohm, M.S., ATC, LAT
MESA, Ariz. – National Athletic Training Association (NATA) President Marjorie Albohm, M.S., ATC, LAT, made a rare stop to A.T. Still University's Arizona Campus to visit the Athletic Training program at the Arizona School of Health Sciences (ATSU-ASHS) on September 2-3. Her agenda included a campus tour, time with athletic training faculty, and a presentation and discussion panel with students.
During her visit, Albohm noted that the Athletic Training program at ATSU-ASHS is one of the most innovative in the country, serving as a model for other athletic training programs. "Your faculty makes a significant contribution to the profession of athletic training," she said. "All are outstanding leaders in their field."
When speaking to students, she called their program the 'Cadillac of athletic training programs.'
"Sometimes when you're in it, and you know your faculty as close as you do, you don't see how the world sees you. The world looks at you as being the best of the best," she said.
"You are part of a highly elite program that positions athletic training in healthcare," she continued. "To be all who we can be as athletic trainers has been my goal in leadership throughout my career, and I share the passion that your faculty has for positioning athletic trainers in healthcare in every single practice setting. You are lucky to be at ATSU-ASHS because the education you take with you to whatever setting you're in will reflect athletic trainers as healthcare professionals."
"We are honored that President Albohm visited our program, the only graduate athletic training education program in the state of Arizona, and one of only 15 NATA-accredited programs in the country," said John Parsons, Ph.D., AT/L, director of the ATSU-ASHS Athletic Training program. "Her visit provided both our faculty and students with a unique opportunity to share ideas and engage in dialogue about the current and future state of the profession."
Albohm was one of the first women in the nation certified as an athletic trainer by NATA. She has received NATA's Most Distinguished Athletic Trainer Award and the Tim Kerin Award for Excellence in Athletic Training, and has served the organization as vice president, president of the research and education foundation, and secretary/treasurer. She served in key positions on the medical staffs of the 1996 Atlanta Olympic Games, 1991 World Gymnastics Championships, and 1980 Lake Placid Olympic Games.