ATSU-ASDOH's Dr. Cottam presented with John McFarland Outstanding Leadership Award
Posted: November 4, 2019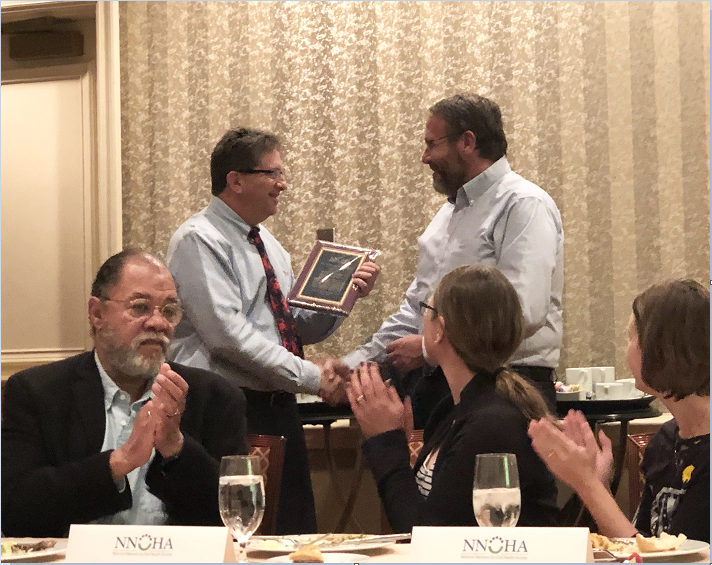 Wayne Cottam, DMD, MS, vice dean, A.T. Still University's Arizona School of Dentistry & Oral Health, was awarded the John McFarland Outstanding Leadership Award from the National Network for Oral Health Access (NNOHA) on Oct. 12, 2019.
Dr. Cottam was nominated for the award by fellow faculty member and former student Scott Howell, DMD, MPH, FSCD, '14.
In his nomination for Dr. Cottam, Dr. Howell shared, "Dr. Cottam has never said 'I don't have time for you,' his response has always been 'how can I help you?' He is the epitome of a servant leader. If it weren't for people like Wayne Cottam, people like me wouldn't even know how to help, how to serve, and how to care for others."
"It was truly an honor to receive this award, named for one of my best friends, most valued mentors and most respected colleagues," Dr. Cottam said.
"During my first week of dental school, I had a presentation about working in clinics that treated the underserved and disaffected. I did not know them as Community Health Centers then, but I immediately recognized that working in that setting was what dentistry had to be for me. NNOHA gave me the support, resources, and encouragement I needed to realize that dream. Since then, I have been honored to make a small but hopefully meaningful contribution to NNOHA—an organization that meant so much to me in my professional career," Dr. Cottam continued.
Scott Wolpin, DMD, past president of NNOHA, presented Dr. Cottam with the award at the NNOHA annual conference in Las Vegas, Nevada. Dr. Wolpin acknowledged Dr. Cottam's contributions to NNOHA including his terms as president and board member, and as faculty advisor for their National Oral Health Learning Institute.