ATSU-ASDOH's commitment to underserved made school perfect fit for Alabama native
Posted: October 31, 2023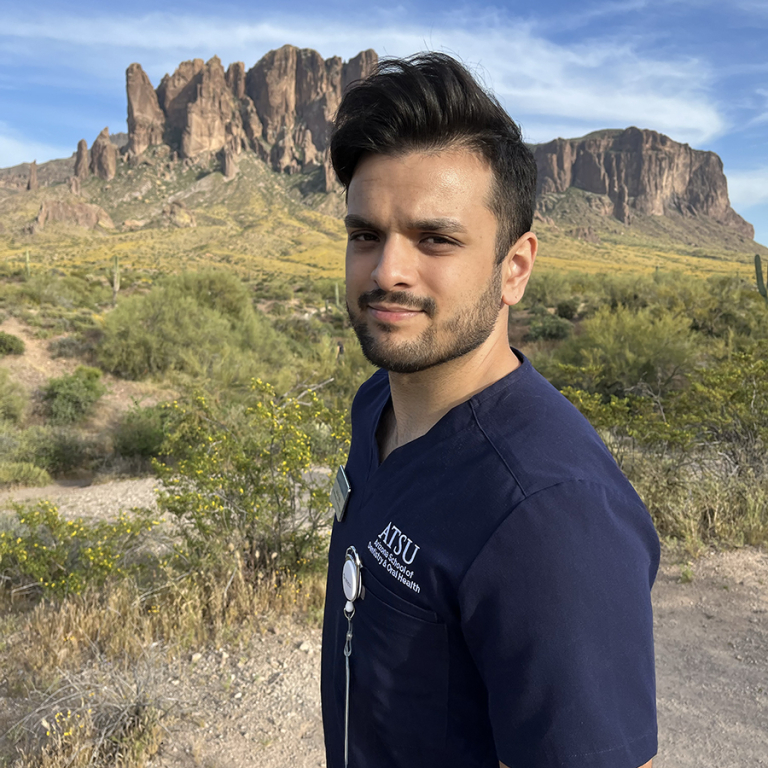 A.T. Still University-Arizona School of Dentistry & Oral Health (ATSU-ASDOH) class of 2026 student Jainik Patel, D2, has been an advocate of public health for as long as he can remember. So when it came time to choose where he would pursue his dentistry degree, ATSU-ASDOH was a perfect fit.
"I was naturally drawn to ATSU-ASDOH for its visionary approach to achieving whole person healthcare and for advancing health equity within the local community," Patel said. "The program not only encompassed my mission to serve the underserved at its core, but it also demonstrated a devotion to cultivating highly competent healthcare providers that are fundamentally guided by the tenets of ethics, compassion, and advocacy at the forefront of healthcare delivery.
"ATSU-ASDOH brings heart to the healthcare system, and I was left amazed by the range of clinical cases that students are able to experience throughout the program. Having the opportunity to serve as a provider within ATSU-ASDOH's dental clinic, as well as through countless local outreach initiatives, would allow me to lay the groundwork for developing into a culturally competent and empathetic dental provider."
Patel earned a bachelor of science in public health with a minor in chemistry from the University of Alabama at Birmingham, in his hometown. He credits the student ambassadors who he met during his application and interview process at ATSU-ASDOH for influencing his decision through their assistance and guidance.
"For dental school applicants everywhere, it is second nature to exist in a perpetual state of fight-or-flight during interviews due to the uncertainty of interview outcomes. The student ambassadors guided my interview group throughout campus, took us to their sim clinic stations to show us what they were working on for the day, and they ended their tour by having lunch with us and giving us an unbiased outlook as to what student life is like at ATSU-ASDOH," Patel said. "My own interview experience allowed me to realize the massive role that student ambassadors can play in calming the nerves and even giving applicants a reason to be excited about joining a family rather than a dental program. This underlying realization, in itself, is what brings me the greatest sense of fulfillment and joy for being a student ambassador with the potential of recreating the same excitement that I felt the day of my ATSU-ASDOH interview."
In addition to having become a student ambassador himself, Patel is diversity, equity, and inclusion chair for the ATSU-ASDOH American Student Dental Association (ASDA) chapter, and vendor relations chair for ASDA District 10 Cabinet.
"Because of the extensive opportunities to get involved with countless clubs, organizations, and extracurricular activities taking place across campus, there is a place for everyone here at ATSU-ASDOH," Patel said. "I enjoy the diversity that can be observed within our campus, which gives us the privilege of interacting with people of similar goals that come from completely different backgrounds. Even apart from being a student ambassador, ways to become involved with student life at ASDOH include ASDA, American Dental Education Association, Ortho Specialty Club, and Endodontic Study Club. Having an on-campus YMCA location also comes with its perks because many students have basketball and volleyball games after school to let off steam from the school day."
In his downtime, Patel, who has a passion for film and filmmaking, enjoys unwinding with a movie. During the cooler months in Mesa, Arizona, he likes playing tennis and hiking.
After graduation, Patel wants to own a private practice and serve underserved communities through work at nonprofit, free dental organizations.
"It is a matter of fulfillment for me when it comes to giving back to my community, and I feel privileged to be in a position where that can be made possible," Patel said. "ATSU-ASDOH is helping to build a steady foundation for my goals by allowing me the opportunity to work with marginalized populations on and off campus, with an utmost goal of maximizing oral health outcomes in people regardless of what they are able to afford."