ATSU-ASDOH's commitment to mission on display daily, student ambassador says
Posted: July 25, 2022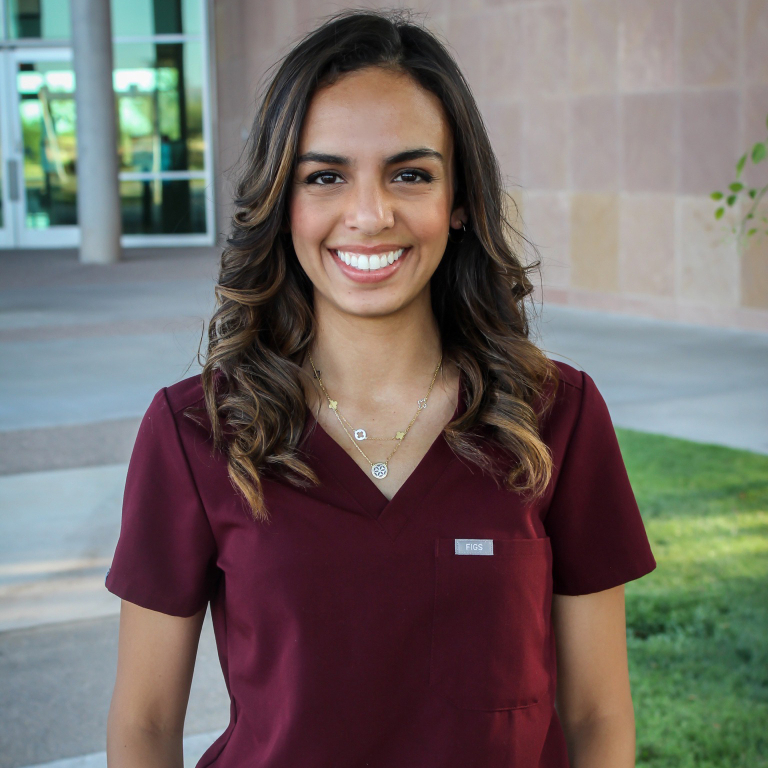 Maria Beckett, D4
Fourth-year A.T. Still University-Arizona School of Dentistry & Oral Health (ATSU-ASDOH) student Maria Beckett, D4, started her dental school search looking for the best education she could find in an environment different from her Irvine, California, home. That may have led her to ATSU-ASDOH's door, but it was the University's mission that helped her realize she'd found her place.
"ATSU represents more than just a great university," Beckett said. "We stand by what our mission is, and every day I witness it on campus and with faculty.
"I enjoy being an ATSU student because the school offers so many resources for us," Beckett said, "from student life, to mental health workshops, and interprofessional courses with all other programs. I personally have been fortunate enough to have access to the Physical Therapy and Audiology programs and have worked closely with them."
Beckett holds an associate's degree in biology from Irvine Valley College and a bachelor's degree in sociology from University of California Irvine. In deciding to pursue dentistry, Beckett's goal is to become a provider who doesn't treat patients as mere numbers.
"ATSU-ASDOH does a great job at training us to look at our patients holistically," Beckett said. "Our clinical training is very extensive and very advanced. With our very advanced in-house lab full of equipment ready to use, we are able to do same-day crown seats just like private practices. We also go and serve our community to give back. ATSU-ASDOH has made it great to give everyone exposure to both sides of practicing dentistry."
Beckett is a member of Academy of General Dentistry, American Student Dental Association (ASDA), Delta Sigma Delta, and ATSU-ASDOH Association of Women Dentists, and is her class' vice president, ASDA activities committee member, class social chair, Axium software super-user, and a student ambassador.
"I joined on campus organizations because I wanted to be a part of change," Beckett said. "Each organization has a very strong foundation with a great team that leads. One of our most active clubs is ASDA, with monthly events and meetings. ASDA offers mentorship, free lunch-and-learns, and much more. I really enjoyed the social aspect of it as well.
"I became a student ambassador because representing ATSU wherever I go is such a huge honor. I love our school and our relationship with our faculty, so I wanted everyone else to come join this very healthy environment. Not only that, but I also got to help a lot of pre-dentals with mock interviews and personal statements. It's a very rewarding experience."
When not working toward a doctor of dental medicine degree, Beckett enjoys painting, hiking, swimming, and playing with her dog at the beach. Beckett also recently picked up arts and crafts.
"I love exploring new places and picking up new hobbies," Beckett said.