ATSU-ASDOH supports Grand Canyon University "Back to School Clothing Drive" with dental services
Posted: September 18, 2018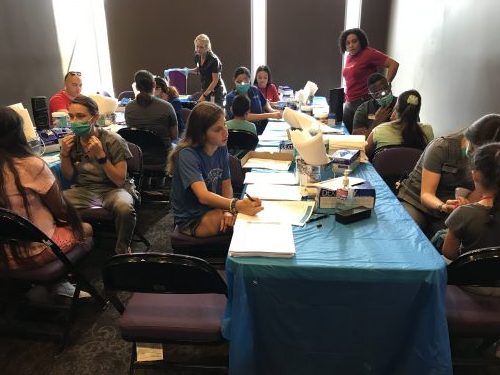 A.T. Still University's Arizona School of Dentistry & Oral Health (ATSU-ASDOH) participated in a back to school drive at Grand Canyon University for underserved children in the Phoenix area. ATSU-ASDOH provided more than 1,100 children from underserved communities with free dental care at the event, and 4,300 participated in dental education lessons.
ATSU-ASDOH also provided 4,300 "dental goodie bags," sponsored by Delta Dental. The bags included a toothbrush, toothpaste, floss, and dental referral sheet.
One ATSU-ASDOH student, Jaiden Mercer, D3, volunteered in a small group of three dental students and two dental hygiene students.
"Our group provided 400 children with oral screenings, fluoride treatments, oral health instruction, and referral information," she said. "I enjoyed interacting with the children and was truly impressed with what a great service the back to school drive provides for the children participating."