ATSU-ASDOH students purchase fishing boat for ARCH fishing club
Posted: May 15, 2018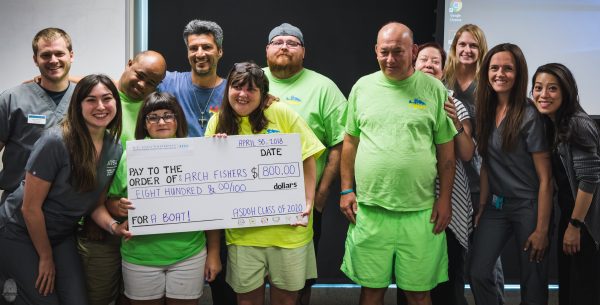 A.T. Still University's Arizona School of Dentistry & Oral Health (ATSU-ASDOH) D2 students completed a rotation with Arizona Recreation Center for the Handicapped (ARCH) as part of their Special Care Dentistry course. ARCH is a 5 acre recreation center in the heart of Phoenix, offering a full range of programs and activities for individuals of all ages with developmental disabilities.
During their visit to ARCH, the participating D2 students learned that ARCH has a fishing club called "Gone Fishin'". They also learned that the members of Gone Fishin' heavily desired to purchase a boat to further the endeavors of the club; however, they were unable to make the purchase due to the substantial cost.
The ASDOH students decided to take matters into their own hands, and hearts, and raise money toward the purchase of a fishing boat for the ARCH's fishing club. With the help of Mai-Ly Duong, DMD, MPH, MAEd, '12, and Maureen Munnelly Perry, DDS, MPA, MAEd, the students arranged for the members of the fishing club to meet for a pizza party, where they presented the club with a check for $800, nearly covering the entire cost of the fishing boat.
"My favorite quote is, 'to make a difference, find a need and fill it,'" said Dr. Duong. She could not be more proud of her students and honored to share this amazing journey with them, as they look for needs and do their very best to fill them.
"As a member of the ATSU community, it is in our inherent nature to serve those who are vulnerable, underserved, and in need. As faculty, you do your best and hope that you have provided students with the knowledge and skills necessary to become caring health care providers. That is why as part of our curriculum, we expose our students to members of ARCH. What I didn't expect was that a simple one-day collaboration would give birth to an initiative that made the dream of a boat come true for 30 individuals with disabilities who love fishing. Our students are not only compassionate healthcare providers, but they are humans with so much heart and love to share with the world," said Dr. Duong.
The D2 students who led the fundraising efforts are Rachel Malterud, Mackenzie Schneider, John Facciolo, and Rachael Maddox.
Click here to learn more about ARCH, or support their mission.