ATSU-ASDOH student tackles anti-vaccine movement in Romania
Posted: July 30, 2018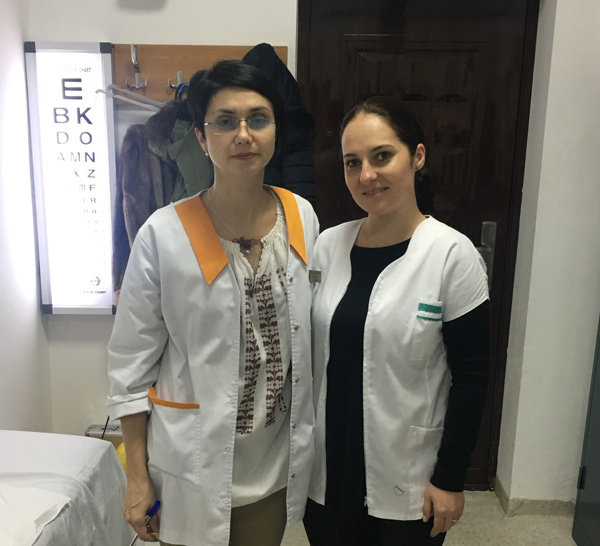 Iulia Badea, a dual-degree student at A.T. Still University's Arizona School of Dentistry and Oral Health (ATSU-ASDOH) recently undertook a challenging public health practicum of her own accord and traveled to Romania to study the recent measles outbreak and the deadly effects it is having on Europe.
Fear of potentially deadly diseases has been replaced by the fear of fictitious side effects of vaccination, such as a link to autism. This fear fuels an anti-vaccination movement in Romania with the help of social media, celebrities, and politicians. Parents are being misled and are not trusting their doctors and there is no foreseeable solution to the growing problem. The most important task at hand is to continue public education and to address vaccine refusal by respectfully listening to parental concerns and discussing the risks of refusing vaccinations.
This is precisely what Iulia Badea did.
Under supervision of her preceptor, Daniela Popescu, MD, a pediatrician in Romania, and S.D. Shanti, DDS, PhD, MPH, CPH, Iulia interviewed 80 parents in one region of the country and identified practical ways of overcoming objections to vaccinations.
"I discovered how the lack of health literacy sets the basis for such practices among the general population, as the majority of the respondents were not aware of how vaccines work. Therefore, I understood that a potential intervention plan should focus on explaining to parents the benefits of immunization, rather than just simply telling them this is a necessity. I believe that answering their "whys" and informing them about the potential consequences of their decisions would tremendously decrease the incidence of communicable diseases in Romania," said Iulia.
She identified key information that was relayed in a final report to the Romanian government and shared with mass media personnel. She is planning on publishing this work in an academic journal, however; in the meantime, the people of Romania are already benefitting from the findings of Iulia's practicum project.
"My project helped me understand that vaccination hesitance and refusal has become a social trend in Romania, were an increasing number of influencers, such as artists, television personalities, and bloggers joined this anti-immunization campaign. The personal interviews with the participants revealed that most of the reasons they are hesitant to vaccinate their children are rooted in some Eastern European beliefs and values. Therefore, a health education campaign should be instrumented with cultural relevance and meaningfulness in order to become efficient," noted Iulia.
Given the life-saving importance of childhood vaccinations, and the potential for further outbreaks that easily cross national borders and can be life threatening, especially to infants, elderly and immuno-compromised people, Iulia took an incredible, life-saving initiative and her work is nothing short of incredible.