ATSU-ASDOH partners with VideaHealth to introduce artificial intelligence teaching tool into classrooms
Posted: November 4, 2020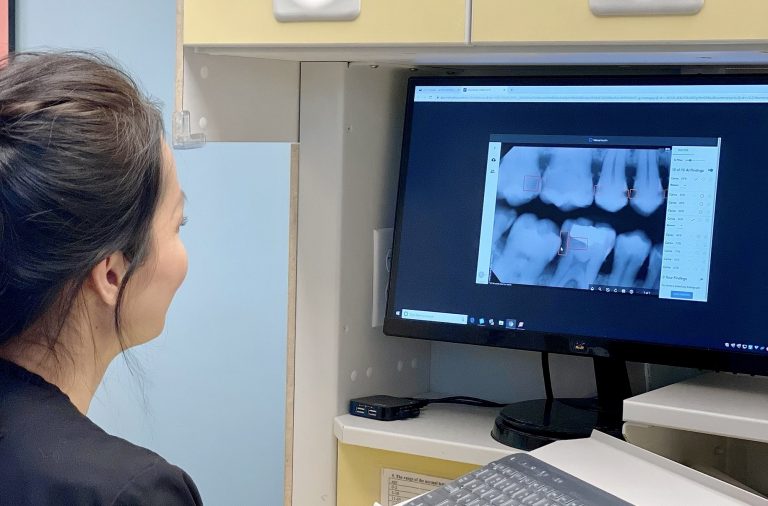 A.T. Still University-Arizona School of Dentistry & Oral Health (ATSU-ASDOH) is partnering with technology company VideaHealth to launch artificial intelligence (AI) teaching programming into Mesa, Arizona, classrooms. ATSU-ASDOH has incorporated cutting-edge technology in its dental simulation clinic, which serves as an innovative learning environment for dental students.
ATSU-ASDOH has been instrumental in development of VideaHealth's AI program, VideaTeach. Though the technology existed prior to the partnership, ATSU-ASDOH's researchers and educators were able to provide feedback and collaborate with developers prior to classroom implementation.
VideaTeach is an AI-powered gamified teaching tool that trains students on diagnosis and treatment planning for oral pathologies. The AI technology reads an X-ray and scans for a number of conditions. Students take the same X-ray and indicate any problems they see. They are then able to compare their answers against the AI program to find the most minuscule issue, such as an open margin of a crown. The software allows students to compete against one another and against VideaHealth's AI program.
"We are incredibly excited to utilize a robust artificial intelligence tool in a unique, educational way to help our students learn more rapidly how to visually assess radiographs," said Jonny Brennan, MD, DMD, '11, MPH, associate dean of innovation and curriculum, ATSU-ASDOH.
ATSU-ASDOH will introduce VideaTeach to the classroom during the fall 2020 semester. The program will initially be utilized in two courses – Radiograph Interpretation Towards Identifying Dental Caries and Treatment Planning course – and Clinic Radiology rotation.
"We are very excited to work together with ATSU-ASDOH and other schools across the U.S. on driving AI forward in the dental domain and teaching a new generation of dentists how to work with the newest technologies in the market. VideaHealth is a leading dental AI company committed to using AI for the greater good of patients, including the integration of oral and systemic health. ATSU-ASDOH, with its technical forward-thinking, technical setup, and its dedication towards whole person healthcare, is a perfect partner to bring dentistry to the next level," said Florian Hillen, CEO & Founder, VideaHealth.