ATSU-ASDOH increases oral screening events in Phoenix
Posted: October 17, 2016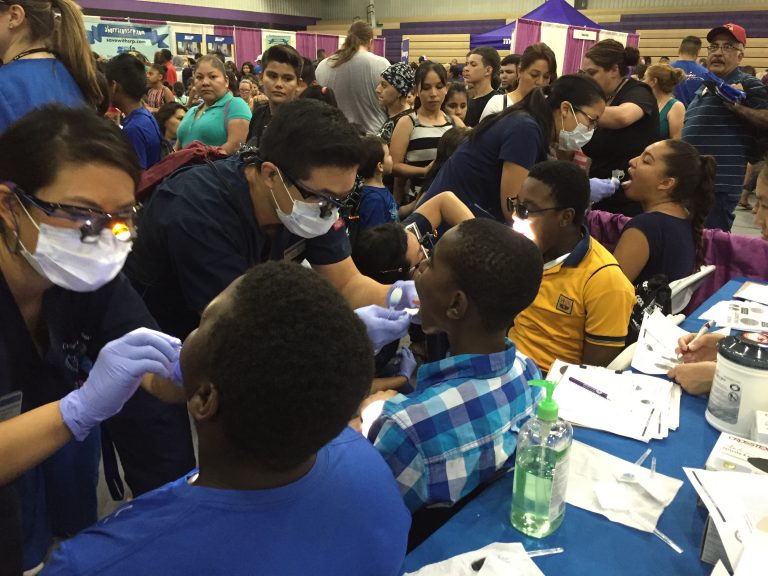 More than 48,000 Americans will be diagnosed with oropharyngeal cancer — or throat cancer — this year. Historically, the death rate associated with oropharyngeal cancer is higher because it is discovered late in its development.
In an effort to increase oral health awareness to the Phoenix community, A.T. Still University's Arizona School of Dentistry & Oral Health (ATSU-ASDOH) expanded its annual Oral Cancer Foundation Walk for Awareness event to include additional oral screenings and education through a $5,000 grant awarded by the Academy of General Dentistry Foundation (AGD).
Mai-Ly Duong, DMD, MPH, '12, MAEd, clinical faculty at ATSU-ASDOH's Center for Advanced Oral Health headed the recent events.
"The main objective of our project was to increase community awareness and education about oral cancer, said Dr. Duong. "With the aid of two ATSU-ASDOH students, Su Ping Mai and Kaitlyn Neglario, we were able to help organize and implement four screening and educational events in the Phoenix community"
Screening events took place at the Tempe Family YMCA, Boys & Girls Club of Tolleson, East Valley YMCA, and Grand Canyon University's Ninos Seguros Back to School Fair. Teenagers age 12-18 were the target age group because recent data from 2008–11 suggests that non-smoking, young adults are the fastest growing segment of the oral cancer population.
"This means the conversation about oral cancer needs to take place earlier so teenagers understand the effects of the three most common risk factors: tobacco use, alcohol use, and HPV exposure," said Dr. Duong.
The AGD grant also funded two non-invasive light-wave screening devices and the development of educational banners that will be used at future events related to oral cancer, including the annual Oral Cancer Foundation Walk for Awareness – Arizona held on Saturday, April 1, 2017 at the Phoenix Zoo.