ATSU-ASDOH class of 2024 celebrates long awaited White Coat ceremony
Posted: November 23, 2021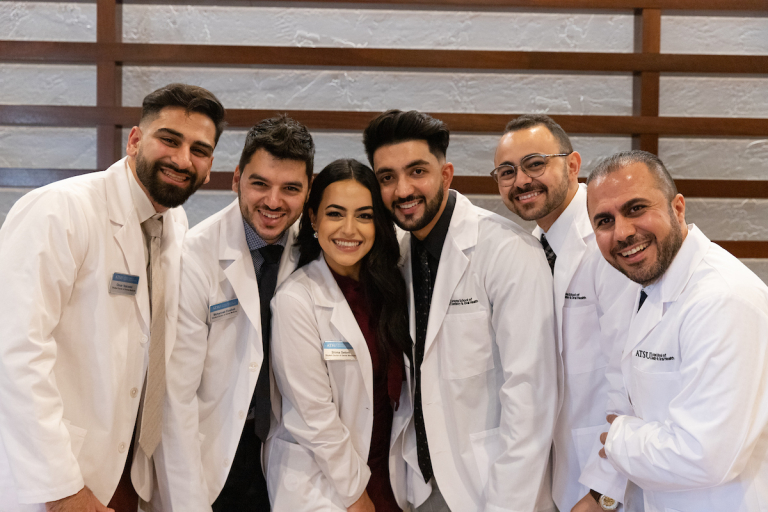 Nearly 500 days after it was originally scheduled, A.T. Still University's Arizona School of Dentistry & Oral Health (ATSU-ASDOH) gathered recently to welcome the class of 2024 with a White Coat Ceremony.
"This is a long awaited White Coat Ceremony for the class of 2024," said Robert Trombly, DDS, JD, ATSU-ASDOH dean and professor. "If you go into Webster's Dictionary and look up 'patience,' they've now added 'class of 2024.'"
The COVID-19 pandemic delayed the ceremony 491 days from when it would have taken place in 2020, but that delay did not diminish neither the mood nor meaning of a momentous occasion for ATSU-ASDOH students.
"You care about others, and that's who we are here at ASDOH. That's who we are at A.T. Still University," Dr. Trombly said. "So, your white coat today adcknolwedges the road that you took, your accomplishments, your unique experiences, and your heart. Your ability to contribute to your classmates, to our program, to teach as well as learn. For that, we thank you for being a part of the class of 2024."
Morgan Feldpausch, D4, vice president of the class of 2022, called it a highly anticipated day and commended the class of 2024 for meeting the pandemic's unique challenges.
"Your class has had an experience unlike any other in the history of not only this school, but of dentistry as a profession," Feldpausch said. "While some may have shied away from the challenge, you rose to it. Your poise and your patience do not go unnoticed or unappreciated."
Delivering the keynote address, Mindy Motahari, DMD, '08, assistant dean and assistant professor, comprehensive care unit director, interprofessional education, called upon students to become "ultimate healers" in their pursuit of doctor of dental medicine degrees.
"It is now the time for you to move to the next journey of your life as a healthcare provider, and to become an ultimate healer," Dr. Motahari said. "From here on, no matter which road you choose, no matter how long it may seem, let your heart be your guide along the way. Follow your heart, but as I always say, take your brain with you."