ATSU-ASDOH Class of 2009 honored at alumni reception
Posted: February 28, 2014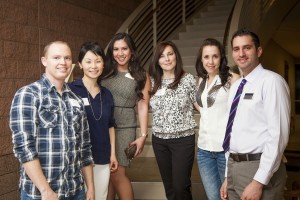 An alumni reception honoring the class of 2009 for their five-year reunion was held as part of the 2014 ATSU-ASDOH Alumni Weekend held on the Arizona campus February 21-22, 2014.
In addition to connecting with other alumni and celebrating the class of 2009, attendees had the opportunity to hear from Dr. Jack Dillenberg, dean, ATSU-ASDOH, and Dr. Timothy Oh, '08, ATSU-ASDOH Alumni Board Chair. Below is a recap of their updates:
We thank our alumni for acting as ambassadors for ATSU-ASDOH on a daily basis as the school continues to be widely recognized for its great work. Not only was Dr. Dillenberg recently recognized with the International Personality of the Year Award at the United Arab Emirates International Dental Conference & Arab Dental Exhibition, but ATSU-ASDOH has been named this year's recipient of the ADEA Gies Award for Outstanding Innovation.
ATSU-ASDOH's Text2Floss program, which raises awareness about the importance of oral health, now offers a free mobile app. The app has features such as a dental hygiene timer, medical history recorder, daily reminders to brush and floss, and a dental clinic locator.
ATSU-ASDOH held another successful Give Kids A Smile event this year. Many thanks to the 30+ alumni and community dentists who also volunteered their time to provide care to more than 400 children. If you are interested in supporting continuing care for these children and others, please contribute to the Smile Forward fund.
The next ATSU-ASDOH alumni reception will be held on Saturday, October 11, in San Antonio, TX, in conjunction with the ADA Annual Session (registration for the Annual Session is not required to attend our event).
Please visit the alumni Facebook page for additional photos.