ATSU-ASDOH celebrates class of 2025 with White Coat Ceremony
Posted: November 8, 2021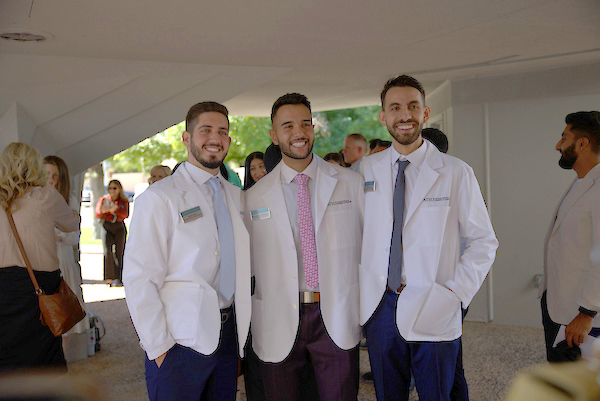 A.T. Still University's Arizona School of Dentistry & Oral Health (ATSU-ASDOH) celebrated 78 members of the class of 2025 with a traditional White Coat Ceremony Oct. 29 in Mesa, Arizona. 
The ceremony would have typically been held in July with the start of academic courses, but was delayed this year due to the COVID-19 pandemic.
ATSU-ASDOH Dean Robert Trombly, DDS, JD, quoted Persian-Islamic poet Rūmī, "It's your road, and yours alone. Others may walk with you, but no one can walk it for you," in discussing students' journeys to this point and the ones ahead.
Dr. Trombly told students they've each followed a unique path to get to ATSU-ASDOH, and somewhere along that path they'd demonstrated compassion and caring for others. Additionally, other people, some of whom were in the audience, had offered help and support along the way.
The white coat, he said, was both an acknowledgement of the journey and acceptance of a social contract to manage the health of patients and communities.
"From this point forward, you're always wearing your white coat. Every interaction, you represent yourself, your school, your peers, and your profession," Dr. Trombly said.
Norman Gevitz, PhD, senior vice president-academic affairs, told students they'd find collaborative learning opportunities at ATSU, where students in all health sciences disciplines interact to gain a broader perspective for future care.
"At ATSU, we love to innovate, and we can bring different healthcare practitioners together in our state-of-the-art simulation labs in joint teaching and team-based problem solving, both here and in community health centers, to enrich you, your DO, and PA student counterparts, to produce distinctive, collaboration-ready practitioners," Dr. Gevitz said.

ATSU-ASDOH alumna Lindsay Springer, DMD, MPH, MAS, '12, reminded students to be kind to and support one another, with a goal to help everyone become outstanding oral healthcare providers.
"You all have strengths and weaknesses that you will see throughout your dental education," Dr. Springer said. "Accept each other's differences. Bring the diverse group that you are together with a common goal of helping one another."
Seena Patel, DMD, MPH, '10, assistant professor, associate director of oral medicine, administered the Oath to the Profession.
In a message from fourth-year students, Elijah Cutshall, D4, ATSU-ASDOH class of 2022 president, told students they will be held to a higher standard at ATSU, and will be better for it. He said the next four years would be challenging, and at times students would find themselves doubting their skills.
"And then, one day, I hope what happened to me happens to you, where you're driving to school, listening to music, thinking about your day, and then you look at your hands and say, 'Man, these hands are learning how to impact people. They're learning how to fix problems, to cure disease,' and you didn't think you could hold a handpiece last year," Cutshall said.