ATSU-ASDOH celebrates 74 class of 2022 graduates with commencement ceremony
Posted: May 14, 2022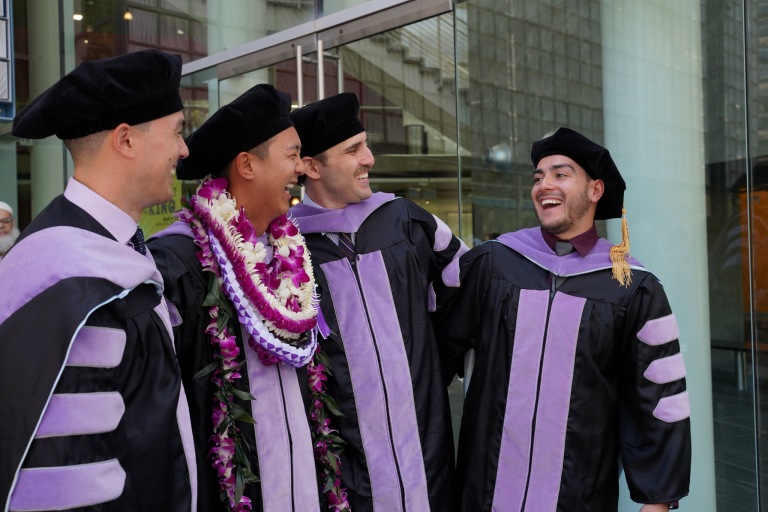 ATSU-ASDOH class of 2022 graduates celebrate following commencement.
A.T. Still University's Arizona School of Dentistry & Oral Health (ATSU-ASDOH) celebrated 74 members of the class of 2022 with a commencement ceremony Friday at the Mesa Arts Center in Mesa, Arizona. 
ATSU-ASDOH Dean Robert Trombly, DDS, JD, said commencement didn't mark an end so much as a confirmation of graduates' relationship with the School.
"We don't really view this as your departure from us, but it's cementing that tie to us, to the ASDOH family," Dr. Trombly said. "It marks that lifelong connection you're going to have with us, with the faculty and staff that taught you, with those who went through the program before you…and those who will be following you. It's that group of people you are a part of who are caring, compassionate healers."
ATSU Board of Trustees member Paulina Vazquez Morris, JD, MBA, MHSA, noted graduates of all ATSU programs emerge with a deep understanding of whole person healthcare, which serves their ability to care for future patients.
"We all understand that body, mind, and spirit are all important when treating a patient," Vazquez Morris said. "Each ATSU program integrates whole person healthcare into its curriculum, and emphasizes development of competencies in interprofessional collaboration, cultural proficiency, critical thinking, social responsibility, and interpersonal skills. Our graduates are mission driven." 
The commencement address was delivered by ATSU-ASDOH alumna Nadia Fazel, DMD, MPH, '14, chief clinical officer of Albuquerque Health Care for the Homeless.
Dr. Fazel told graduates to not be afraid to take stock of their professional life in the future, and make changes to their paths as it suits them.
"I know many of you have your next steps already laid out. You know where you'll be going and what you'll be doing," Dr. Fazel said. "But don't see this as final. Don't be afraid that in two, five, or 10 years time, you might realize you actually do what to specialize, you do want to own your own practice, you do want to work in public health. It's OK to change your mind. I promise it's completely possible."
In closing remarks, ATSU President Craig Phelps, DO, '84, expressed confidence in the class of 2022.
"This is one of the most important days of your personal and professional life," Dr. Phelps said. "From today forward you will wear the mantle of a healer. It is important to remember your education allows you to provide high quality care, taking care of individuals, families, and communities. No one is better prepared than you, and no one can do it better than you."
In addition to receiving their doctor of dental medicine degrees, nine students also received master of public health degrees.