ATSU-ASDOH alumni donate Dentsply Sirona Omnicam scanner
Posted: August 18, 2020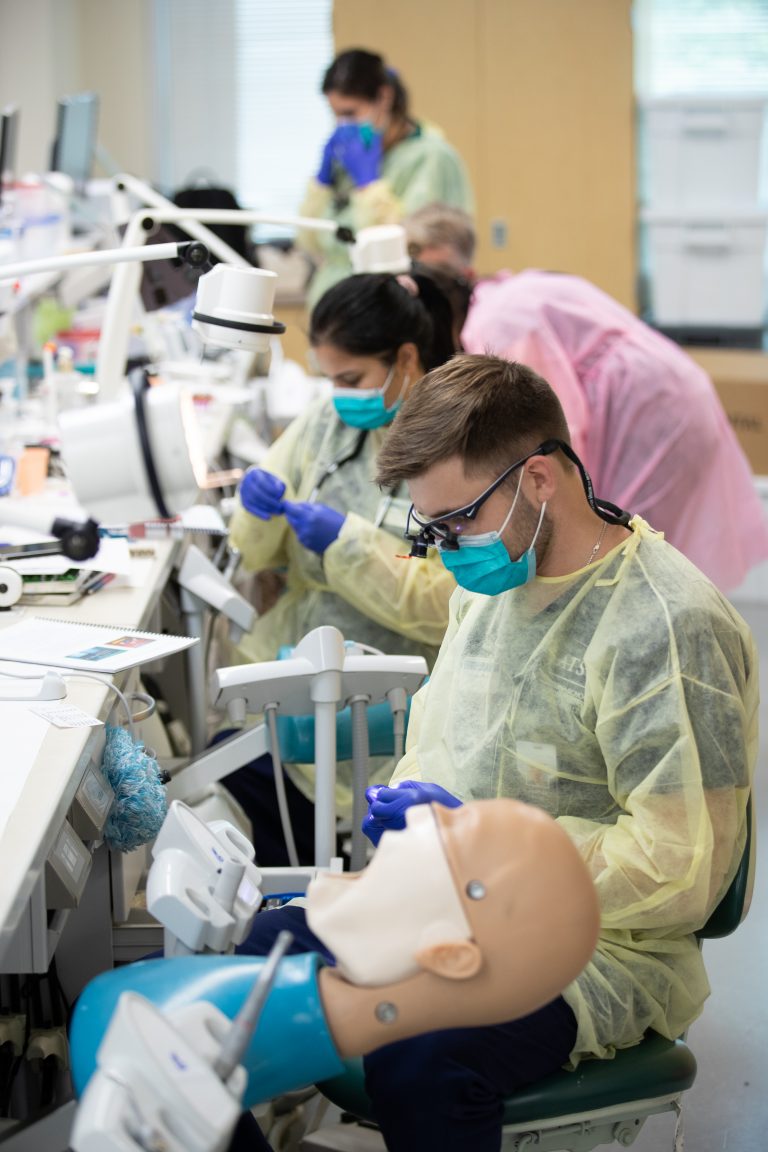 Dental students in the simulation clinic.
A.T. Still University-Arizona School of Dentistry & Oral Health (ATSU-ASDOH) has received a donation of a Dentsply Sirona Omnicam scanner from two ATSU-ASDOH alumni. Jonny Brennan, MD, DMD, '11, MPH, associate dean of innovation and curriculum, and his brother, Elliott Brennan, DMD, '12, recently donated the device in an effort to support ATSU-ASDOH students who are learning about digital dentistry at the University's Dillenberg Center for Health Innovation & Technology.
The scanner is used in dentistry to make a digital, 3D mouth impression, then build prosthetics or restorations digitally. The scanner will enhance the care given to patients in the clinic and serves to advance student education as the digital tool provides objective feedback.
"We use these scanners extensively in the simulation clinic for students learning how to drill crown preparations on practice teeth," Dr. J. Brennan said. "They scan their practice 'preps' and then use software specific for dental education called PrepCheck to receive objective feedback on various attributes of their crown preparation."
Because they did not have access to these types of tools as ATSU-ASDOH students, Drs. Brennan felt compelled to make the donation to continue their support of the digital dentistry program.
"We have both been very involved in building the digital dentistry program at ATSU-ASDOH and hope that this small contribution pairs with the others made by so many others to really solidify digital dentistry at ATSU-ASDOH," Dr. J. Brennan said.
By helping students see a three-dimensional view of the teeth after they have completed their procedures, they are able to see the things that went well and learn what could be improved. This objective feedback helps students understand concepts that can otherwise be hard to demonstrate because of the three dimensions involved and the small scope, such as margin finish, tooth reduction, or taper.
"It is more critical than ever that ATSU-ASDOH dental students have access to the latest digital tools that help them understand the fundamental concepts related to tooth preparation and restoration design, as well as opportunity to utilize these tools in clinical care delivery," Dr. J. Brennan said. "We are deeply committed to continuing to build a strong foundation in digital dentistry for every ATSU-ASDOH graduate."