ATSU-Arizona School of Dentistry & Oral Health Dean Robert Trombly, DDS, JD, to retire
Posted: February 16, 2023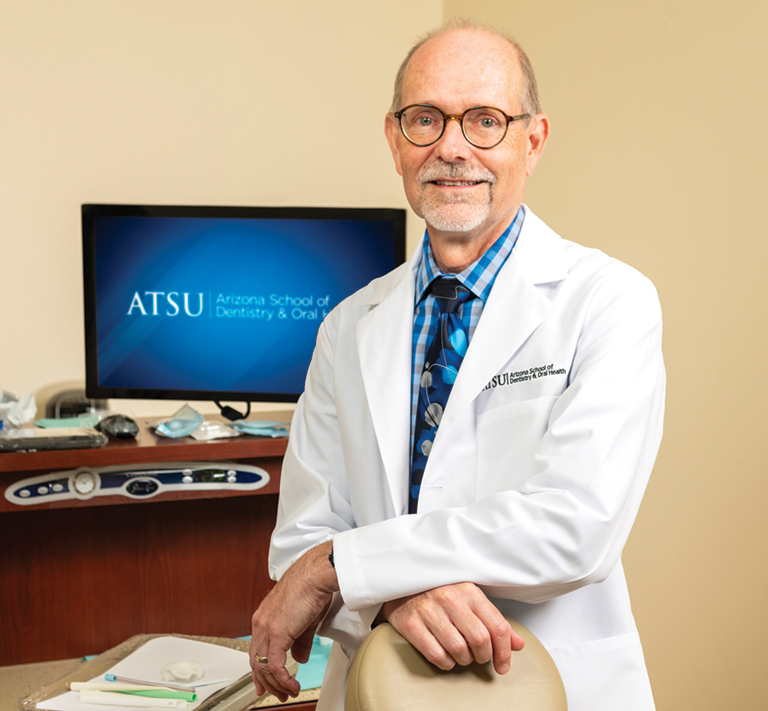 Robert M. Trombly, DDS, JD, professor and dean of A.T. Still University's Arizona School of Dentistry & Oral Health
Robert M. Trombly, DDS, JD, professor and dean of A.T. Still University's Arizona School of Dentistry & Oral Health (ATSU-ASDOH), has announced he will step down from the dean's position and retire effective Dec. 31, 2023.
Dr. Trombly joined ATSU-ASDOH in 2015 as associate dean for clinical education and student success, and has served as the School's dean since July 1, 2017. As a first-generation college student, Dr. Trombly graduated from University of Michigan School of Dentistry ('84), completed his general practice residency at Hennepin County (Minnesota) Medical Center ('85), and earned his juris doctorate degree at University of Denver College of Law ('91).
Serving as ATSU-ASDOH's second dean, Dr. Trombly continued the development of innovative models of education and further enhanced the institutional culture of caring established by the University and ATSU-ASDOH's founding dean, Jack Dillenberg, DDS, MPH, dean emeritus. ATSU-ASDOH was founded in 2003 with core institutional values of being a leader in community health and caring for the nation's most vulnerable underserved populations, and today remains the preeminent dental school with an understanding that clinical excellence must include a commitment to community health and whole person healthcare.
During Dr. Trombly's tenure as dean, he has focused on creating a caring culture of growth, development, and mentorship in ATSU-ASDOH faculty, staff, students, and residents. This supportive environment has facilitated collaboration and implementation of innovative integrated curriculum with community-based clinical service learning, including interprofessional education, teledentistry, advanced digital dentistry, patient-centered clinical care, restructured learning modules, which highly integrate biomedical, behavioral, and clinical sciences, and an unparalleled learner-focused environment.
Dr. Trombly's contributions at ATSU-ASDOH also include the planning and construction of two capital initiatives within the Dillenberg Center for Health, Innovation, and Technology, fully supported through more than $1.5 million in donations and gifts-in-kind from ATSU-ASDOH's Advisory Board, faculty, staff, alumni, and friends in the community. The PDS (Pacific Dental Services) Innovation Clinic, established in 2019, serves as the clinical education hub for advanced digital technology and as a clinical practice model for patient-centered and interprofessional collaborative care, and the Dhanjal Oral Health Research Center, established in 2021, integrates clinical research space with the first laboratory research space on ATSU's Mesa, Arizona, campus.
Joining ATSU-ASDOH and ultimately serving as dean was a natural progression in Dr. Trombly's professional journey of more than 40 years. His unique background in dentistry and law, together with his passion to create learner-centered education, improve access to oral healthcare, and better integrate oral health into the primary care system, informed his pathway in dental education. Starting in 1985 as an adjunct faculty member at University of Colorado School of Dental Medicine while establishing his new general practice, Dr. Trombly transitioned to a full-time academic career in 1991. He has served 30-plus years in a wide variety of administrative leadership roles at institutions with a primary mission focused on access to care and interprofessional education, including associate dean for academics at University of Detroit Mercy School of Dentistry, founding executive associate dean at Western University of Health Sciences College of Dental Medicine, and associate dean for clinical affairs and associate dean for community affairs and curriculum, both at University of Colorado School of Dental Medicine.
Dr. Trombly is a fellow of the American College of Dentists and International College of Dentists, and member of the Pierre Fauchard Academy and Omicron Kappa Upsilon. He has served the profession in a number of capacities in professional associations, as well as government, community, school, and nonprofit charitable organization boards. Dr. Trombly has been active in the American Dental Education Association, where he served 12 years in various officer positions in the sections of Clinical Administration and Academic Administration. He has also served as a site visitor and review committee member with the Commission on Dental Accreditation.
Dr. Trombly expressed he is deeply grateful to have had an opportunity to be a part of the ATSU-ASDOH family as the capstone of his long career in dental education.
"ATSU-ASDOH is a very special place, and it's because of our people, the faculty, staff, students, and residents who are a part of our ATSU-ASDOH family," he said. "Together they create our unmatched culture of caring for our patients and communities, and our amazingly supportive environment for our learners."
Together with his spouse, Colleen Trombly, RDH, MHSA, who is also retiring as a faculty member at ATSU-ASDOH, they look forward to enjoying extended time with their blended family, including six adult children, two grandchildren, siblings, and parents, who are scattered across the globe in Arizona, Michigan, Colorado, Florida, and Europe.