ATSU announces new mascot
Posted: October 31, 2013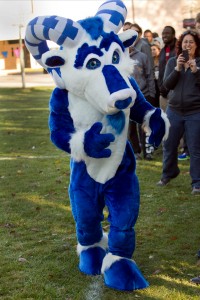 A.T. Still University (ATSU) announces the reveal of its new mascot, Bucky, the Ram of Reason. ATSU students, faculty, and staff had the opportunity to submit and then vote for ram design concepts through a contest sponsored by the University Student Association. The winning logo concept for the mascot was created by Gregory Melton, a first-year medical student at ATSU's Kirksville College of Osteopathic Medicine (ATSU-KCOM). Melton won a $100 Visa gift card and will receive the first apparel item displaying the new mascot.
The new mascot is named in honor of ATSU-KCOM Emeritus Dean of Students Francis "Bucky" M. Walter Jr., MA, BS, DOEd (Hon.), who passed away in August. He was known as the founding father of student support and development in Student Affairs. Walter served ATSU-KCOM as assistant dean and director of admissions, among other capacities, and was dean of students from 1961-1986.
The new mascot logo will be displayed on various items, and a live mascot will be used for various community and ATSU events. Bucky, the Ram of Reason, will channel the lighthearted spirit of his namesake. The mascot costume was donated to ATSU for students, faculty, and staff to use during outreach activities promoting health, wellness, prevention, and education.
The "Ram of Reason" is referenced in the 1897 autobiography of Andrew Taylor Still, MD, DO, founder of American osteopathy. He wrote about falling asleep and being butted awake by a "ram of great power." When he escaped up the nearby "Tree of Knowledge," Dr. Still wrote that each person must (metaphorically) climb his or her own tree of knowledge to find the secrets to success in life.
The history of the ram dates back to World War I when sporting competitions at the American School of Osteopathy (ASO) ceased. As students and sports returned to campus, discussions occurred that a mascot should be selected for the ASO, as was the custom of most collegiate teams. The ram was selected to be the ASO mascot when Dr. "Virg" Halladay suggested it as the logical choice, pointing out Dr. Still originally selected the ram as his symbol and that a ram's head was displayed at the top of ASO diplomas.
(ASO to Use Ram as Its Mascot, "Daily News," Nov. 11, 1921)