ATSU announces groundbreaking scholarly activity partnership with the National Association of Community Health Centers
Posted: November 12, 2014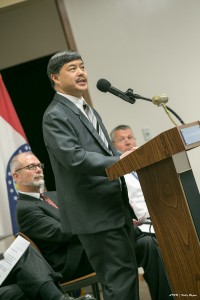 Craig M. Phelps, DO, '84, president of A.T. Still University (ATSU), and Ron Yee, MD, MBA, chief medical officer of the National Association of Community Health Centers (NACHC), announced a groundbreaking, joint research partnership on Nov. 11, 2014. The innovative partnership between ATSU and NACHC will help create and advance interprofessional scholarly activity within Bureau of Primary Health Care supported community health centers, and it will help improve the health status of patients and communities across the nation.
"ATSU is looking forward to collaborating with NACHC on this important initiative focused on improving the health of our nation," said Dr. Phelps. "Research projects inclusive of basic scientists, clinicians from multiple professions, and ATSU students will seek opportunities to provide timely outcomes for expeditious application."
In an effort to advance scholarly activity opportunities, ATSU and NACHC will focus on:
developing, implementing, and assessing evidence-based medicine guidelines.
diagnosing, preventing, and treating diabetes, obesity, skin cancer, metabolic syndrome, traumatic brain injury/concussions, spine pain, and HIV/AIDS.
evaluating oral health disease prevention and treatment programs.
measuring and encouraging physical activity and its impact on health and wellness.
designing, organizing, and evaluating population management teams and patient navigator models.
"Focusing on scholarly activities that are academic, yet practical, helps deepen the relationship and experience of students," said Dr. Yee.
NACHC represents the nation's safety-net of community health centers. Community health centers receive base funding from the Public Health Service, Health Resources and Services Administration, and the Bureau of Primary Health Care to improve the health status of underserved communities, provide access to health services, and offset some costs of caring for the uninsured.
NACHC and ATSU seek to foster community health scholarship to strengthen this safety-net, and ultimately improve the health status of these communities.
"NACHC's partnership with ATSU over the years has yielded some of the most well-prepared and dedicated health care professionals, especially in service to vulnerable populations and communities," said Tom Van Coverden, president and CEO of NACHC. "NACHC fully supports this important work as it will benefit many of our medically underserved communities and further advance quality patient care in community health centers."
NACHC and the national safety-net of Community Health Centers also support ATSU in many ways, including access to clinical rotations; introductions to potential funding partners; residency development; data gathering; student scholarship opportunities; and national exposure of ATSU's schools, programs, faculty, and staff.
To see the story on ABC News broadcast affiliate, KTVO, click here