ATSU alumna helps others along the road to recovery
Posted: January 23, 2017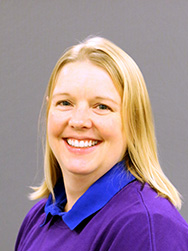 Nikki Lewis, MS, NSCA-CPT, '14 has always enjoyed sports and fitness. Coupled with her passion for serving the community, this led her to pursue a career as a fitness professional working with special populations. A master's degree in kinesiology from A.T. Still University (ATSU) was the perfect way for Lewis to achieve this goal. The program expanded her knowledge, enabling her to better meet the needs of her clients.
Like many alumni of ATSU, Lewis is using her expertise to serve those in need. She works in the fitness center at McHenry County College (MCC) in Crystal Lake, Illinois. Thanks to a partnership with Northern Illinois Special Recreation Association (NISRA), she also helps adults with special needs achieve their health goals.
Lewis has been working with NISRA for 12 years, and has seen clients with a range of illnesses and disabilities that limit their mobility, including multiple sclerosis, stroke, traumatic brain injury (TBI), and spina bifida. Training sessions with clients from NISRA are individualized, based on the unique needs of each participant. Some clients hope to improve their walking pace, while others strive to climb stairs or balance on uneven surfaces. One participant is working toward playing the guitar again. Lewis helps clients get comfortable with their "new normal," while working toward their personal health goals.
Many NIRSA participants have left a lasting impression on staff and volunteers in the fitness center at MCC. Clients who have suffered a stroke or an accident have had their worlds turned upside down in the blink of an eye. Yet Lewis is always in awe of their positivity and perseverance in the face of such challenging circumstances.
Recently, Lewis recalls a young accident victim who had suffered a severe TBI. After receiving a discouraging prognosis following the accident, this individual refused to give up. She sought out NIRSA, along with physical therapy, to help with her recovery. Since then, she has made substantial progress, exceeding doctors' wildest expectations. Her strength, stamina, balance, mobility, and flexibility have drastically improved. She also has better posture and gait. As the client has achieved her physical goals, Lewis has noticed an increase in her confidence and self-esteem.
In addition to the obvious benefits for program participants, Lewis trains student volunteers to staff the program, creating opportunities for hands-on learning and community engagement. Students in MCC's fitness instructor training program value the real-world application of what they are learning in the classroom, while other students volunteer with the program as they explore various career paths.
As Lewis explains, her job is tough but the rewards are immeasurable. "Seeing someone come in each week with a smile on their face, wanting to put forth the effort while faced with such adversity, is by far the most challenging and rewarding aspect of my work."