ATSU and Affinia Healthcare open new St. Louis dental clinic
Posted: June 11, 2015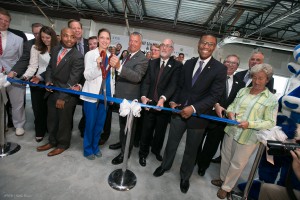 The St. Louis Dental Education and Oral Health Clinic will open its doors for the first time on Monday, June 15, at 1500 Park Avenue near Lafayette Square. A pioneering collaboration between ATSU and Affinia Healthcare (formerly, Grace Hill Health Centers), the $24 million, 79,000-square-foot facility is expected to provide oral healthcare for thousands of underserved St. Louis-area residents while training third- and fourth-year students of ATSU's Missouri School of Dentistry & Oral Health (ATSU-MOSDOH) for careers in community dentistry and public health. The first ATSU-MOSDOH class, comprising 42 students, will begin working with patients under faculty supervision in early July. Affinia Healthcare, a community health center organization, will operate the 92-chair dental clinic.
Cannon Design and Musick Construction, both of St. Louis, were integral to the architecture and construction of the new facility. Musick Construction was chosen because of their success in meeting diversity requirements specified by city ordinance and the mayor's Executive Order #46. The order mandates diversity in redevelopment projects supported with Tax Increment Financing.
Said ATSU President Craig M. Phelps, DO, "The St. Louis community has been wonderful to work with during the planning, permitting, and construction process. ATSU looks forward to serving alongside Affinia Healthcare and others in providing greater access to oral healthcare for all."
The St. Louis Dental Education and Oral Health Clinic will be the primary clinical education site for ATSU-MOSDOH students. Following two years of classroom learning at the dental school in Kirksville, MO., which was founded in 2013 to address the disparities in oral healthcare in Missouri and across the nation, students will move to St. Louis to complete their final two years at the clinic and work directly with patients under the supervision of ATSU faculty members. Students will give back as they learn; their ability to provide basic oral care will enable the clinic to serve thousands of patients each year.
This innovative model of oral health education offers students a first-hand view of, and experience in, community healthcare. The approach reflects ATSU-MOSDOH's mission to train community-minded dentists who will help fill the gap in oral health practitioners working in underserved, rural, and urban communities. That mission is also reflected in ATSU-MOSDOH's requirement that students earn not only a doctor of dental medicine degree, but a certificate in public health as well.
Alan O. Freeman, FACHE, president and CEO of Affinia Healthcare, said, "We are privileged to partner with ATSU in this groundbreaking endeavor. It is incredibly rewarding to be a part of the solution for the future of oral health access in Missouri and across the region."
The clinic will be staffed by healthcare professionals who will provide the full spectrum of oral health services. These include preventive care (checkups, cleanings), periodontics (the treatment of dental diseases), endodontics (root canal), prosthodontics (crowns, implants, bridges, and dentures), radiography (dental X-rays), oral surgery (extractions and other complicated surgical procedures), and the repair of dentures and implants. The clinic will also offer some orthodontic care.
In addition to providing basic and advanced dental care to adults, children, and the elderly, the clinic will offer specialty care dentistry and access to special needs communities. Experts in this critical specialty treat patients with complex oral health conditions or medically complex illnesses like cancer, cardiac disease, hemophilia, and kidney disease; patients who are on dialysis or who are diabetic; and patients with physical or developmental challenges such as cerebral palsy, Down syndrome, autism, Alzheimer's disease, and other forms of dementia.
"By working directly with the full spectrum of dental professionals to care for patients in need, ATSU students will receive an education in community-based dentistry. Upon graduation, they will be uniquely equipped to become public health leaders dedicated to improving life for patients in need," said Christopher Halliday, DDS, MPH, dean of ATSU-MOSDOH.
To make an appointment or for more information regarding payment options, please call
314.833.2700
.