ATSA participates in University and community interprofessional events
Posted: June 21, 2018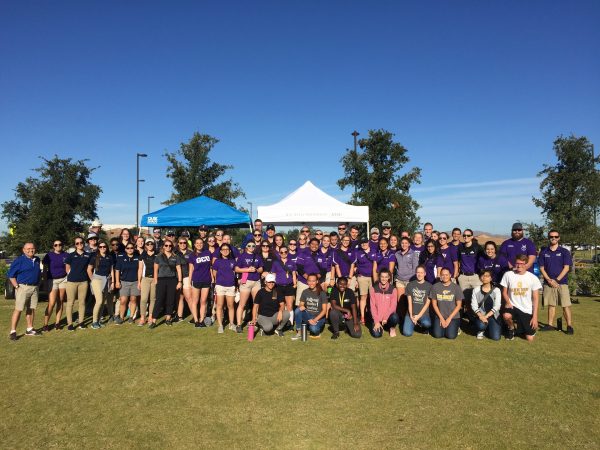 Athletic Training Student Association (ATSA) had several opportunities to provide medical care and assist in the prevention of injuries, working with A.T. Still University (ATSU) students from other programs. ATSA members participated in Day for Special Smiles, Team of Physicians for Students (TOPS) pre-participation physicals, Corbin's Legacy, and the Hearing Loss Association of America (HLAA) Walk for Hearing.
ATSA was happy to participate in ATSU's Day for Special Smiles event in October. This was an interdisciplinary activity led by the dentistry students and staff that provided dental care and health screenings to underserved patients with special needs. As licensed healthcare providers, the athletic training students were able to give neuromuscular screenings to each of the patients.
ATSA guided students from other disciplines at ATSU during TOPS in providing orthopedic screenings. As licensed healthcare providers, they provided a key role in assisting ATSU's School of Osteopathic Medicine in Arizona and Midwestern University's Arizona College of Osteopathic Medicine students with the pre-participation orthopedic screening assessment for high school and college athletes. ATSA members learned collaboratively with the medical students in areas of EKG screening, and heart and lung auscultation. TOPS provides comprehensive medical screening for high school and college athletes with the goal of protecting them from sudden death. This year, TOPS completed more than 1,200 free pre-participation physicals in April.
ATSA took part in the first Corbin's Legacy back-to-school health fair at ATSU's Mesa campus. Working alongside students from other programs, this event provided a variety of medical screenings and health-related activities for underprivileged elementary students from the East Valley. Corbin's Legacy is a foundation that aims to continue Corbin Leafman's work by ensuring that no elementary school child goes without lunch, or is embarrassed because their account is too low or depleted. ATSA members helped physician assistant and medical students in performing musculoskeletal exams during the event, and developed and manned the "fun zone" obstacle course.
ATSA also had the opportunity to provide medical coverage for the HLAA Walk for Hearing in November. As an event that helps raise awareness about hearing loss and communication access for the hearing-impaired, this was a fantastic chance not only to learn about and give back to a population that we often don't work with, but also to collaborate with ATSU audiology students and spend some time mentoring athletic training professional students who were also part of the volunteer medical team. Over 300 walkers participated in the second-annual event.