AT student awarded Dwight Patterson scholarship
Posted: February 20, 2012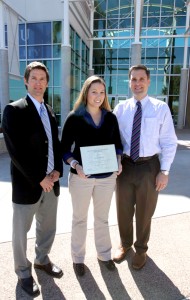 Richelle Mayfield, AT,'13 receives Dwight Patterson Youth Sports Scholarship
The winner of the 2012 Dwight Patterson Youth Sports Scholarship is Richelle Mayfield, AT, '13.
"This year, the second year of the scholarship, we received applications from seven AT students, six of whom satisfied the eligibility criteria for the scholarship," said John T. Parsons, Ph.D., ATC, AT, associate professor and director, Athletic Training program.
Eligible applications were competitively evaluated by a panel of athletic training faculty, who then made a final recommendation to the ATSU Student Scholarship & Awards Committee. "The competition was especially tough, and faculty were impressed with both the quality and thoughtfulness of the applications," said Dr. Parsons.
The scholarship is an acknowledgment of an athletic training student's dedication and commitment to youth sports and the well-being of youth athletes through academic, clinical, and service activities.
The scholarship was made possible through a gift from Ann Patterson Cleghorn of Mesa, Ariz., in memory of her father, Dwight Patterson. The gift was intended as a legacy to Dwight Patterson by providing an educational scholarship affiliated with safety in youth sports in his name.