AT student recognized by OATA
Posted: May 15, 2012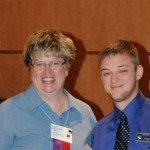 Rice (right)
Trevor Rice, AT, '13, is the recipient of the 2012 Ohio Athletic Training Association (OATA) Student Leadership Award. Rice began his involvement with OATA in 2010 and is also an OATA student representative to the Great Lakes Athletic Trainers' Association Student Senate. He currently serves as head athletic trainer at Westview High School in Avondale, Ariz.
On being awarded this honor Rice said, "This award is the greatest recognition of my young career. To be recognized by your peers as a student leader is the ultimate honor. I want to thank the OATA for this opportunity. Without these opportunities the leaders of tomorrow can never be found, and our future as a profession cannot be secured."
Rice received his honor at the 2012 OATA state meeting and symposium on May 11-12 at the Fairlawn Hilton in Ohio.