ASHS holds spring commencement ceremony
Posted: March 12, 2009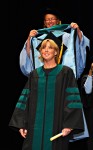 Annlee Burch, Ed.D., M.P.H., PT, ASHS physical therapy chair and associate professor, hoods a doctor of physical therapy candidate.
MESA, Ariz. (Mar. 12, 2009) – A.T. Still University's Arizona School of Health Sciences (ATSU-ASHS) celebrated commencement ceremonies for four online programs Saturday, March 7 at 10 a.m. at the Phoenix Convention Center.
A total of 292 graduates earned either master of science or doctoral degrees in ASHS' Human Movement, Physician Assistant Studies, Audiology, and Physical Therapy programs. "Once again, it was exciting to watch health professionals attain a higher degree with the intention of making a difference in the care of their patients," said ASHS Dean Randy Danielsen, Ph.D., PA-C, DFAAPA.
"Phoenix should be very proud of hosting this event," said ATSU Provost Craig M. Phelps, D.O., FAOASM. "Graduates and their families from across the country gathered at a wonderful venue, on a beautiful Arizona day to celebrate their achievement."
Founded in 1995, ASHS is committed to educating and preparing its students to practice at the forefront of a rapidly growing healthcare system. "Graduation is a wonderful opportunity to both celebrate the accomplishments of our students and recognize their much-needed contribution to healthcare throughout the community and the nation," said ATSU Associate Provost O.T. Wendel, Ph.D.
As part of the commencement ceremony, an honorary doctor of humane letters degree of was awarded to keynote speaker William Kohlhepp, D.H.Sc., PA-C. Dr. Kohlhepp is associate professor of physician assistant education at the Quinnipiac University PA program in Hamden, Conn., and practices part-time in New Haven, Conn.
Dr. Kohlhepp encouraged graduates to embrace their professional values throughout their careers by focusing on patients, other health professionals, the public, and themselves. "Your time at ATSU has likely immersed you in the mission of the University which includes a number of professionalism values, so you may be well on your way," he said. "The work you will be doing will be challenging and rewarding. You will save lives, you will heal bodies and minds; you will touch hearts. You will make a difference."
Dr. Kohlhepp has published numerous articles on clinical and professional topics. He served on the board of directors of the National Commission on the Certification of Physician Assistants, serving as chair in 2006. He is past president of the American Academy of Physician Assistants, a distinguished fellow of the American Academy of Physician Assistants (AAPA), and was recently recognized as PA of the Year by the AAPA.