ASHS faculty members honored
Posted: May 13, 2014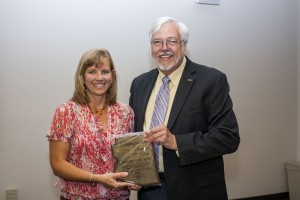 Arizona School of Health Sciences (ASHS) Dean Randy Danielsen recognized three ASHS faculty members for their significant contributions to ASHS this past year.
Tawna Wilkinson, PT, '99, DPT, '04, PCS, assistant professor, was the recipient of the Educator of the Year award for excellence in teaching, inspiring students to think critically, and supporting intellectual curiosity.
The Distinguished Service of the Year award was presented to Deanne Fay, PT, DPT, '07, MS, PCS, associate professor, for excellence in the service to the University, community, and the profession.
James Lynskey, PhD, PT, associate professor, received the Scholar of the Year award for excellence in the scholarship of discovery, integration, application and teaching. This award is sponsored by John Heard, PhD, vice-president for Research, Grants, and Information Systems.
According to Dean Danielsen, "These awards are selected by the ASHS Faculty Assembly through a rigorous nomination process and honor faculty who have excelled in scholarly work, service, and education."